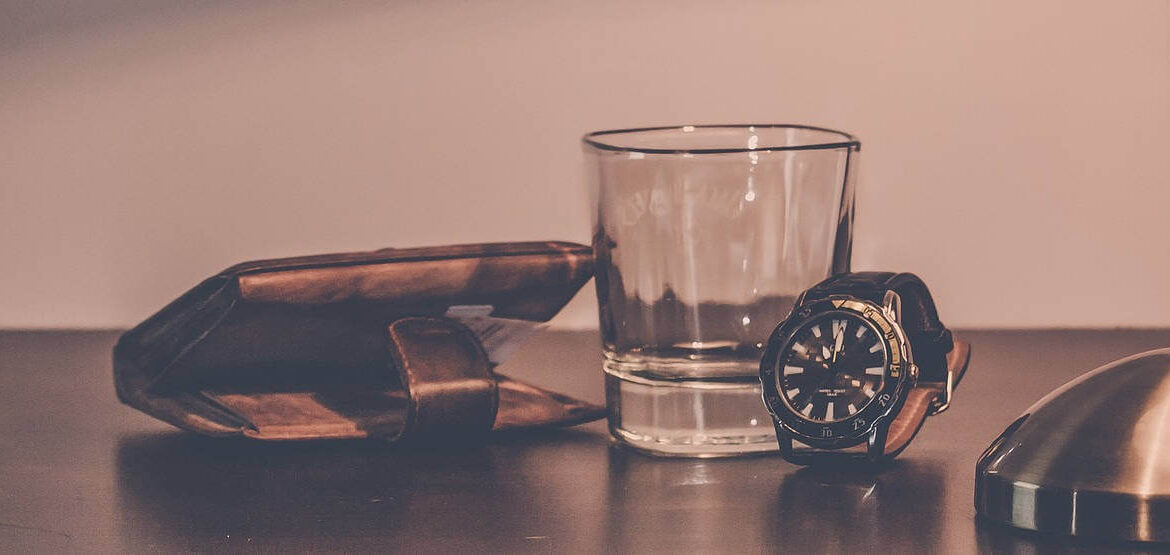 Awesome Wallets for Men
Some guys accessorize. Some don't. Others accessorize minimally – perhaps wearing only a watch. Wherever you fall on the men's accessory spectrum, at a minimum, we're betting you carry a wallet.
Thanks to their practicality, wallets aren't always thought of as accessories – a quality they share with belts. However, just because it's practical or functional doesn't mean it can't look great and reflect the personality of the man carrying it. With that in mind we have put together our list of awesome wallets for men.
In the past, wallets have served as not only a place to hold money, credit cards and IDs, but also a place to keep photos. Today, smartphones have largely replaced wallets as our memory-holders.
What makes a wallet awesome? That will largely depend on the man that is going to wear it and his preferences. However, a slim shape, unique design, and some character or personality will always be a hit for the stylish gent.
Here we present you with some of the more out there, but still cool, wallets available today.
This RFID-blocking, bifold wallet from Alpine Swiss provides plenty of space for all your important stuff while still being slim enough to be comfortable in your back pocket. With a zipper around all sides but the folding side, you can even keep coins or a key without worrying about it falling out. It also has two separate bill compartments for your large and small bills, or depending on your financial situation, just small bills. There are 9 separate card slots for all your credit and discount cards.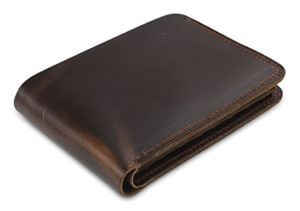 This great looking wallet from Secret Felicity comes in a handsome dark brown color and is made from 100% cowhide. It's handcrafted by skilled artisans and each wallet has it's own unique characteristics. It features an ID window that folds down with a button that can be snapped to keep it from hanging down. It's slightly large for a wallet at just over 5 inches long but it more than makes up for its size by with its rugged design.
This super handy wallet from RAE is the most feature-packed wallet on our list of awesome wallets for men. The features start with a clip for your cash in the middle of the bifold wallet – perfect if you're a money clip fan but also need compartments of a wallet. It has a slot on the outside of the wallet for quick access to your most often used credit card or ID plus a pull tab to easily get your other important cards. With it's ultra slim design you might be surprised to find out that it blocks RFID signals and keeps your personal and financial data safe!
One of the most unique wallets on our list of awesome wallets for men is definitely this cork wallet from Corkor. Made for vegans or just guys that are environmentally minded, this wallet does not include any animal products and is made of cork that is separated from the tree without causing damage to the tree. This Portuguese-built wallet features a coin pocket, 4 cards slots and 2 ID windows. Don't let the cork fool you! The texture is very soft and will fit comfortably in your pocket!
Firmly favoring practicality over sex appeal, this functional and durable wallet from Dickies is 100% nylon. It has a pocket with a zipper for your coins, a key, or anything else you want to keep safe. Best of all, if it gets dirty, clean up is a breeze. Just wipe it with a damp cloth and you're good to go! No more worrying about your genuine leather getting wet or damaged. What could be more practical than this wallet from Dickies? Nothing!
How many times have you fumbled with your wallet trying to pull out your debit card at the checkout counter? This nifty wallet eliminates that with a lever at the bottom of the wallet that keeps your cards secure until you need them. Just release the lever and your cards pop-up for you to grab and use. Also features a strap on one side for your cash and another pocket on the other side for your ID or most frequently used card. Simple and handy!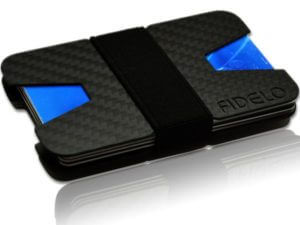 Ever wonder why we carry our wallets in our back pocket? We don't know either! But this minimalist wallet from FIDELO is bucking that trend thanks to its design. Effectively, it's two carbon fiber ends wrapped with a premium elastic band. This allows it to carry a single card or up to 15 cards! The carbon fiber ends have a groove so you can easily slide a card out without having to remove the band every time you need to access it. Plus, you can keep cash in the elastic band.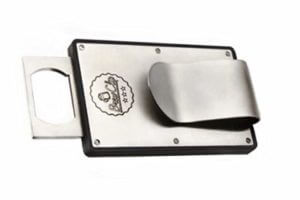 Looking for a reason to share a couple of brews with your buddies? How about just because your wallet doubles as a bottle opener? Works for me! Truthfully, it's more bottle opener than wallet – it has a clip on one side to hold your cash and a couple of cards but we're not going to be too picky here. The Brew Clip is made of stainless steel and is definitely our favorite wallet on this list of awesome wallets for men for obvious reasons.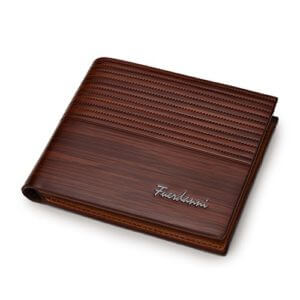 Who said stylish had to be expensive? This stunning wallet is an absolute bargain. But the great price isn't our favorite thing about this wallet – it's the design and two-tone coloring. It's larger than some wallets but it's also durable and has loads of pockets for whatever you need to carry including four separate card slots plus a centerfold that has an ID window a fifth card pocket. If the 4.7 inch variation is too big for you, there's a slightly smaller version that is also available.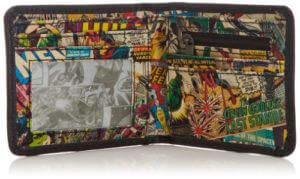 Topping off our list of awesome wallets for men is this fun yet stylish wallet from Marvel. You don't have to be fan of the Marvel Universe to appreciate this wallet but if you are, you're going to love it! It has all the practical features that you would expect from a quality wallet plus the interior of the wallet is made of retro comic print of some of Marvel's most iconic characters. The art deco style poster print is going to draw attention. The best way to forget about the lack of cash in your wallet.