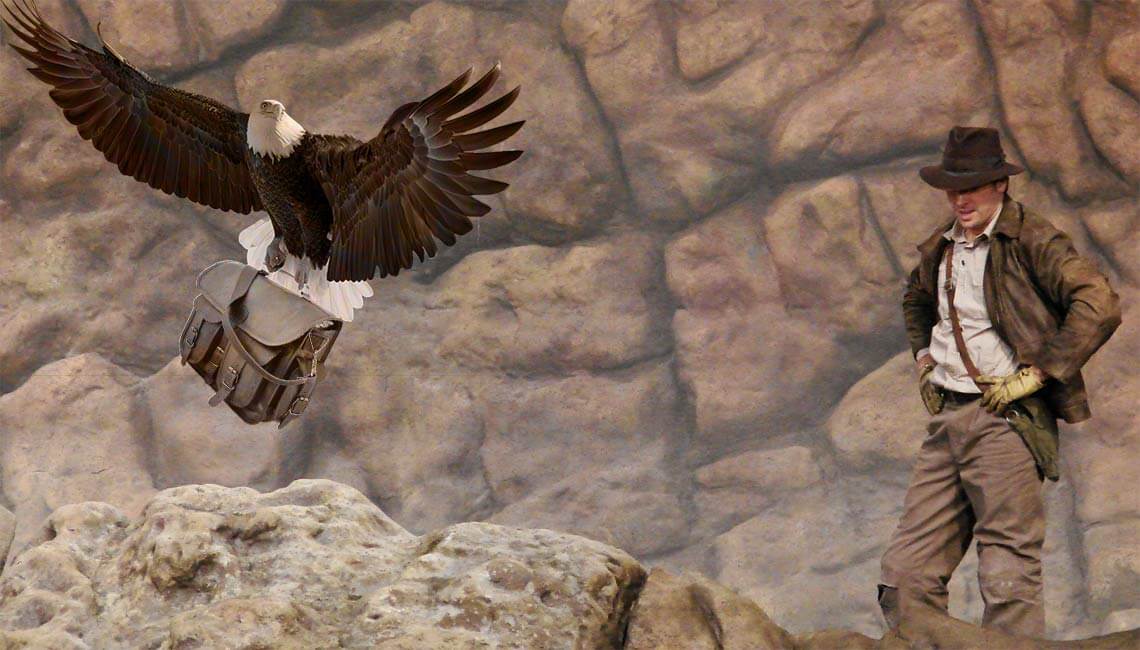 The Best Leather Satchels For Men that will make you feel like a boss
10 of the best Cool leather Satchels and why you need them
Time was that the mere thought of a man carrying anything that remotely looked like a purse was taboo. How many of you have been shopping with your girlfriend or wife and she wanted to try on some clothes? What's the first thing they do? Hand you their purse! They disappear behind a door leaving you standing there holding this foreign object between thumb and forefinger like it's some toxic poison or dead animal.
Now, we've already covered the manly way to carry things in our Top Backpack Round Up. That's all well and good if you're out hiking and fall off a cliff, and you need all that room for survival gear and food rations. You don't really want all that bulk on your back like a Hunchback of Notre Dame when you're dressed to the nines out on the town, or going on that all important job interview for a job that will determine whether or not you rent a little efficiency or buy your dream house.
Enter the satchel, or man bag, or man purse, or the extremely shortened and obscure murse. Yes, there are cool satchels for guys. Really! Gone are the days of being called a pansy or any of those other derogatory labels. Allow us to explain why it's ok for men to carry a satchel. Or maybe you would be more comfortable if we called them cool messenger bags. Oh, get over yourself and go get a tumbler of whiskey from that awesome Decanter Set you just bought. Follow along as we clear up your preconceived notions.
WHAT IS A SATCHEL BAG?
A satchel is a bag designed to be carried with a strap over the shoulder and can either be worn diagonally across the chest or on one side of the body hanging off the shoulder. It dates back to Roman times when a type of bag called the loculus was carried by soldiers, which evolved into the modern satchel. The satchel is also known as a messenger bag as this is the preferred bag for professions that deliver parcels across distances. The satchel bag often has a strap on the front of the bag that is connected to a flap which acts as the closing device for the bag. Satchels have a variety of closing devices including metal buckles, plastic buckles, magnetic closures and zippers.
Satchels vs. Backpacks
We've already explained above how the bulkiness of a backpack can get in the way. How many times have you seen some sharp dressed man walking down the street with that hulking eyesore hanging over one shoulder, straps hanging down and flapping in the breeze, zippers and clasps blinding you with reflected, glaring sunlight, and even those stupid mesh holders showing the world that hastily misplaced pack of condoms? Is he meeting someone for a date or attending a business meeting? Wouldn't those guys look much more stylish strutting down the street with cool leather satchels over their shoulders? Yes, much more chic (yes, I used that word).
While backpacks are available in leather, the majority of the market is flooded with that coarse, manufactured fabric known as polyester. They come in all sorts of colors from flat black to mind numbing neon green. Yuck! Now, satchels do come in all sorts of varieties as well, including polyester. But why, may we ask, would you want to go that route when you are creating yourself as a trendy, in vogue, modern gentleman. Why go with polyester when there are so many designs of cool satchels for guys. Why go with polyester when there are so many cool satchel designs to go with?
Don't put up with polyester when your hand can glide across smooth vintage leather while reaching into your bag. No more grating and rubbing on that icky polyester. Come on guys; show the world you have some class. You already got yourself off to a great start when you invested in the timeless art of shaving with a straight razor. Oh, and don't forget about that incredible decanter you got your shot of whiskey from when we started this lesson on style and substance. Still not ready to take the plunge and invest in a couple of cool messenger bags? Fine. We'll continue.
Male Celebrities Wear Them
We know, we know. "I don't follow trends. I'm my own man." Deep down inside you know that's a bunch of bull. We all follow trends. One way or another we always come around and jump on that bandwagon. How often have you been left in the dust when your entire posse jumped on the train and you were running along with your hand out waiting to be yanked onboard? Yeah, we thought so.
There are tons of examples of celebrities roaming the streets away from the film set or recording studio sporting those ever in-style, attractive cool satchels for guys. Ok, ok, those cool messenger bags. God, you're so sensitive.
Let's take a look at some examples, shall we?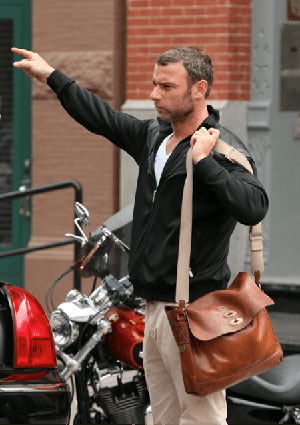 That's right. That is none other than Liev Schreiber, star of Netflix's Ray Donovan. If you ask us, we think he looks pretty badass while sporting this manly messenger bag. We know, it's not necessarily a satchel, but remember, we said there are variations. Since you might still be a little squeamish, we're reminding you that there are really cool messenger bags out there to get you used to the idea. More on those later.
Here's another.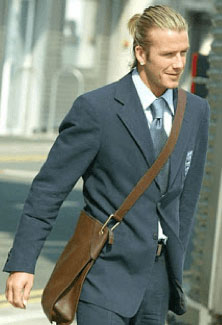 How about sex symbol soccer superstar David Beckham? If he can knock the ladies stockings off with cool leather satchels, why can't you? Just look at the smile on his face. He has no hang-ups wearing his bag. We guarantee no one is looking at him and thinking "pansy boy".
Now that we've shown you some real life men, let's take a look at some iconic fantasy men. Well, a man and something else.
One of the most iconic manly men of all time is Indiana Jones, played by Harrison Ford. Yeah, he always got the lady. He was so manly in those films we bet you never noticed his satchel. Hmmm, did ya?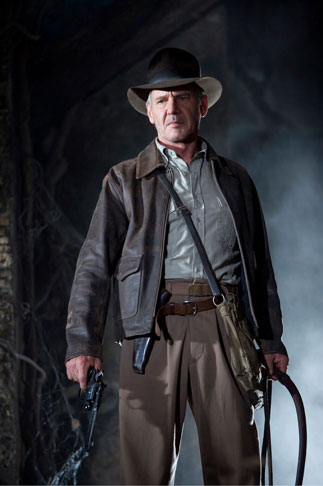 Look real close now guys. Gun, whip, hat, jacket, and… wait… is that a satchel? Why, yes it is! Of course, we aren't suggesting you walk down the street with a gun and a whip, but you get the point. At least we hope you do.
One more. This one you're going to love. We promise.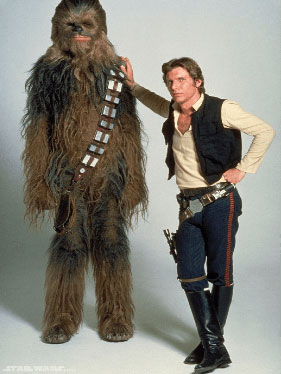 That's right, Chewbacca.
What's that draped across that furry chest? It's a really cool satchel. Imagine that. Or maybe we should call what he wore over the course of all his adventures just variations of those cool messenger bags we spoke about earlier. Try to get away with calling him a girly wookie.
Now that we've enlightened you to the style and substance you can achieve by using a satchel, man bag, man purse, or murse, we want to introduce you to some of our favorites. Below we present you with some great quality, high fashion satchels.
Elegance and stylishness await you. Go ahead and take that leap. Trust us. She won't make fun of you.
Here are our best Cool Satchels for Guys
Hopefully, we gave you some insight above on how awesome you can look with a satchel. But like we said, they come in all shapes and sizes. We'll make sure to throw in some cool messenger bags because we get it, you want to ease into this and telling your friends it's a messenger bag sounds much less feminine than proclaiming it is a satchel.
Remember, style and class aren't always cheap, but we'll try not to clean out your wallet that you will be carrying in one of these cool leather satchels.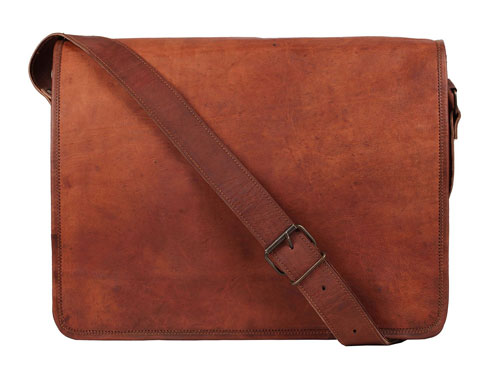 As promised we are starting out slow with you because we understand your trepidations. This Rustic Town 15-inch Leather Messenger packs tons of simple elegance in a sleek design.
At 15 inches long, 11 inches tall, and 4 inches wide, this messenger has room for your laptop, tablet, and anything else you need for work or pleasure. Professional enough for the office, yet stylish enough for those weekend getaways. Brass fittings and buckles keep your stuff safe. Imported and handcrafted by artisans in India, it is made from 100% genuine goat hide.
Jump on this deal and get yourself a couple of HIGH-QUALITY cool messenger bags. Get one for yourself and a couple more for gifts for your Dad, brothers, or your best friends. They will thank you.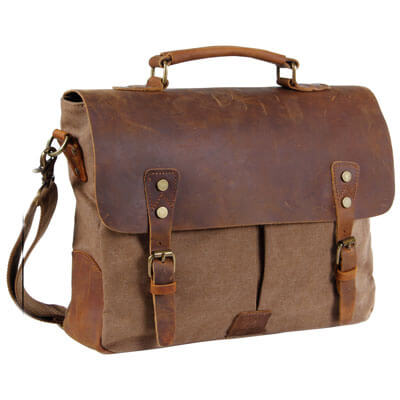 We told you we had some cool messenger bags for you to choose from. Check out the Langforth Leather and Canvas Messenger Satchel. See, there's that word satchel. Don't let it freak you out. It's just a word.
Genuine cowhide crazy horse leather expertly sewn and resilient canvas (no polyester here) for endurance make this bag long lasting. Padded foam inner lining and bottom keep your computer and other items safe from accidents. The handle is made from the same cowhide leather and is attached with top quality fittings. Numerous pockets make storage of miscellaneous items easy to get to. The adjustable strap can accommodate shoulder use or cross-body wearing. These affordable satchels are the perfect alternative to that tired old briefcase.
And ladies, Christmas is coming. Show your man some style this year.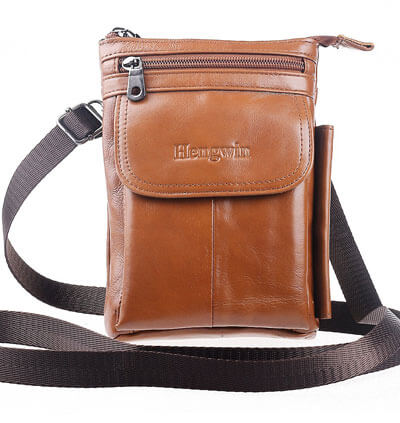 This genuine leather satchel is a stylish piece to get you started on your man bag experience.
As you can see, it has the versatility you need while not being too big for when you don't need a lot of room. It's great for a night out. Made by Hwin, this handsome bag touts durable stitching, strong zipper, and it's the perfect size for your smartphone. It comes with 4 compartments, a smaller zipper pocket inside, and even a pen holder on the side for easy access. An adjustable strap for cross body wear as well as a D-ring for belt loops, and two loops to be worn on the belt. It's perfect for the essentials while on weekend adventures.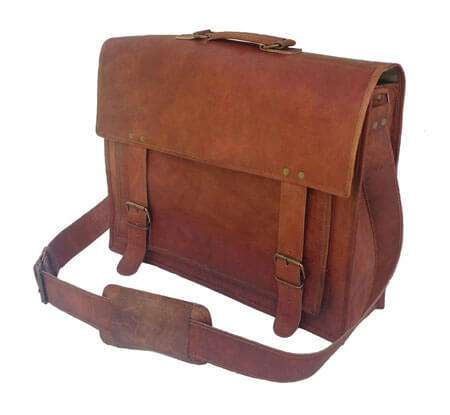 Now we're getting into the good stuff. Komal's Passion Leather claims a classic, vintage look. At 18"x13"x6", it's big enough for anything you need for your day at the office. It has olive green canvas inside for durability. A large front pocket will hold a tablet and small files and 2 small inner pockets and a large compartment for your laptop. The strap adjusts for cross body use to relieve shoulder stress for comfortable carrying. It's not just for the office, use it anytime. Check it out now for a high-quality messenger satchel.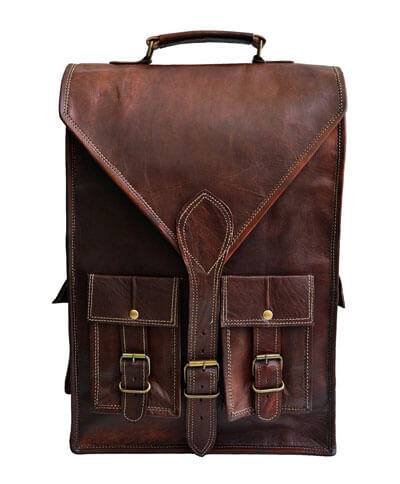 So many really cool satchels on this list and this is one of our favorites. The Jaald Convertible Satchel converts to a backpack for when you absolutely need one. It comes with plenty of room for all the necessities. Three sections inside for a laptop, files etc. Four outside pockets for smaller items like a cell phone, wallet, or keys. High-quality leather with an interior padded section to protect your laptop. Special touches like polished brass buckles that are 100% rust free will keep it looking awesome for years to come. The sling adjusts to shoulder, cross body, and even backpack positions.
This one has all the bases covered guys. Ladies, your guy on the go will cherish this gift.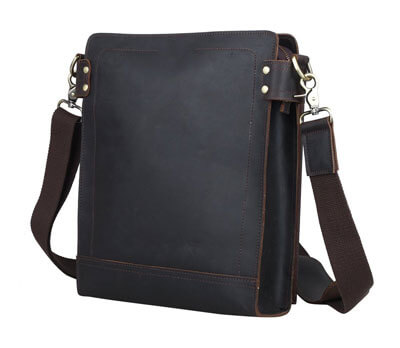 Baigio has crafted a clean, crisp, simple, elegant urban style cross body messenger satchel bag.
It is 9.8"x12.2×2.8, and even comes with a free gift: A leather pencil case. It consists of one main zipper pocket, one front pocket, one wallet pocket, and a pocket for your smartphone. The adjustable cross body shoulder strap can be removed. This bag is great for travel, school, shopping, parties, or really any occasion you can think of. The classical design of this bag is bold yet reserved, but very chic. It makes the perfect gift for that young man you're sending off to college.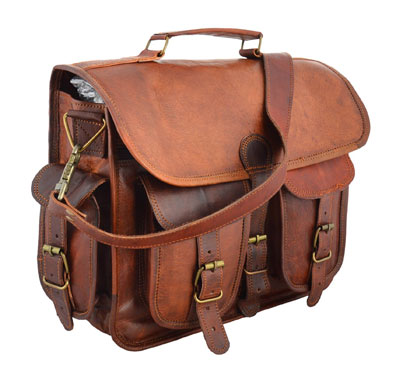 Here's another great one by Jaald. This messenger bag has a rustic western style. It's made of 100% goat leather with an adjustable shoulder strap for cross body carrying. It measures 11"x15"x5", with a large middle compartment big enough to fit any size laptop. It also utilizes a zippered pocket inside.
Stride into that business meeting in style.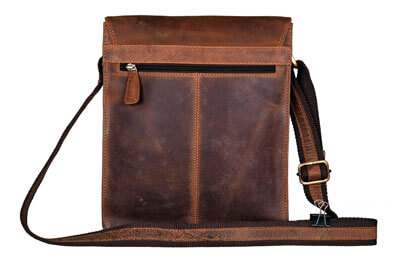 This high-quality cross body satchel by Handolederco is 10"x12"x3" and can fit a small notebook or Ipad.
Handolederco takes pride in their eco-friendly process. They tan the hide for 30-45 days using vegetable leaves and refuse to use any chemicals. The bag comes with durable fittings such as rivets, buckles, and buttons all made of brass. They guarantee quality 100%. It makes the perfect gift for the environmentally conscious man in your life.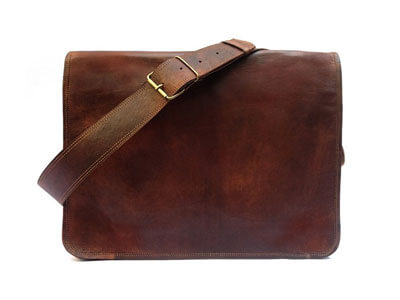 Next up is this beautiful 17-inch Vintage Leather Messenger Bag by Pascado. Handmade in India, these are 100% genuine leather and they want you to be aware that all genuine leather by nature will have some scars due to whatever markings might have been present on the goat's skin. These blemishes are proof positive it is genuine leather and is completely chemical free.
This satchel has three open sections with a padded one for a 17" laptop. It sports durable brass fittings with two magnetic snaps to hold everything in place and has impeccable craftsmanship.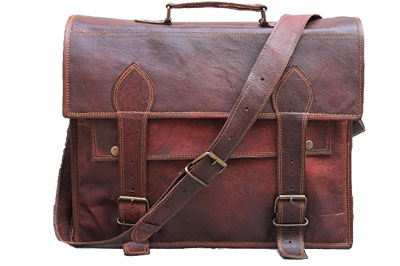 We saved the best for last. This is another exquisite bag by Pascado. Vintage style with a unique design, this bag is 17"x12"x5". It features buckled closing for securing sensitive items. One compartment that is zipper closed, one large horizontal zipped pocket outside, three open sections, and one padded compartment for a computer. The shoulder strap is detachable.
Just like the previous bag, this one comes with all of the quality guarantees that make Pascado stand apart. This is the ultimate Christmas present for that special someone.
It's All About Style, Class and Cool Satchels
So, what do you think? Ready to take the plunge? Take a deep breath and make that leap into the 21st Century. We've told you the why and the how, and we've shown you some really, really cool satchels for guys. We promise no one will laugh. Well, we can't really promise that because we don't know what kind of friends you hang with. But we are sure the ladies will love it. Because really, to hell with your buddies, you know where your priorities are.
Image References
Chewbacca Image. (n.d.). Retrieved from http://eatgeekplay.tumblr.com/post/80894369844/5-of-the-best-bromances-in-geekdom
David Beckham Image. (2013, January 24). Retrieved from http://fashionista-review.blogspot.com/2013/01/its-not-man-purse-its-called-satchel.html
Indiana Jones Image. (2007, November 29). Retrieved from https://www.filmjackets.com/forum/viewtopic.php?t=156
Liev Schreiber Image. (2013, June 20). Retrieved from http://www.purseblog.com/celebrities/liev-schreiber-makes-his-mulberry-man-bag-look-good/