The Best Leather Briefcases for Men
Backpacks are a great way to carry all the things you need when you're on the go – that is, if you're hiking or still in school. For the career-minded man, briefcases are the best option.
If you're a briefcase newbie, you may be wondering what the best leather briefcases for men are and whether or not you could pull one off. We already covered some nice leather satchels in a previous article, but the briefcase is a much more formal accessory. You have likely seen guys in their dapper suits carrying a sharp briefcase and thought, "there is a guy who is doing something right. He must be a high-flying account executive, architect, or lawyer."
The truth is that he may just be a mid-level guy working his way to the top like everyone else. But the briefcase makes us think otherwise and that is the beauty of it. The briefcase manages to exude a timeless sense of having something worthwhile to do. While it's certainly important, the appearance of the briefcase is secondary to the functionality.
So what is the functionality of a briefcase?
Today's briefcase had its beginnings in the carpet bag and the Gladstone bag, which made appearances in France and England, respectively. Functionality was the primary concern and that was still true when the briefcase emerged in the middle of the 19th century.
In its past, the functionality was primarily to carry important papers. That is still true today but with gadgets having such a large part of our lives, a briefcase needs to be able to accommodate more than just papers.
A briefcase from even just 15 years ago would probably not be sufficient for today's man. Will it have place for his laptop or tablet? His smartphone? How about a powerbank? These are items that weren't carried around 15 years ago but are commonplace today. In addition to having a compartments where these items can sit securely, a briefcase still needs to be lightweight enough to be carried with relative ease.
Considering the importance of both the functionality and the appearance while also factoring in price, here are our best leather briefcase options for businessmen: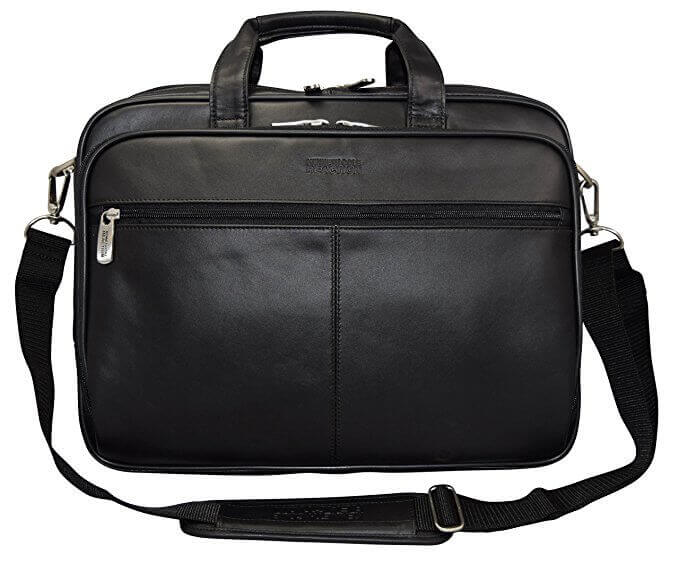 Kenneth Cole Reaction, the cheaper alternative to Kenneth Cole New York, is a great place to start out our search for the best leather briefcase worthy of charismatic men. The brief case is ideal for traveling thanks to its lightweight build. At just 2.9 lbs, it's a breeze in the airport or on the morning walk from your parking garage to office.
The bag is large enough to accommodate up to a 15.4" laptop in one of its padded pockets and still have room for your tablet in a separate pocket. The main padded pocket for your laptop is conveniently located in the middle of the bag with additional compartments on either side. This maximizes protection from the bumps that go along with your typical work day. At well under $100.00, this briefcase is great bargain with all the class and style you would expect from Kenneth Cole.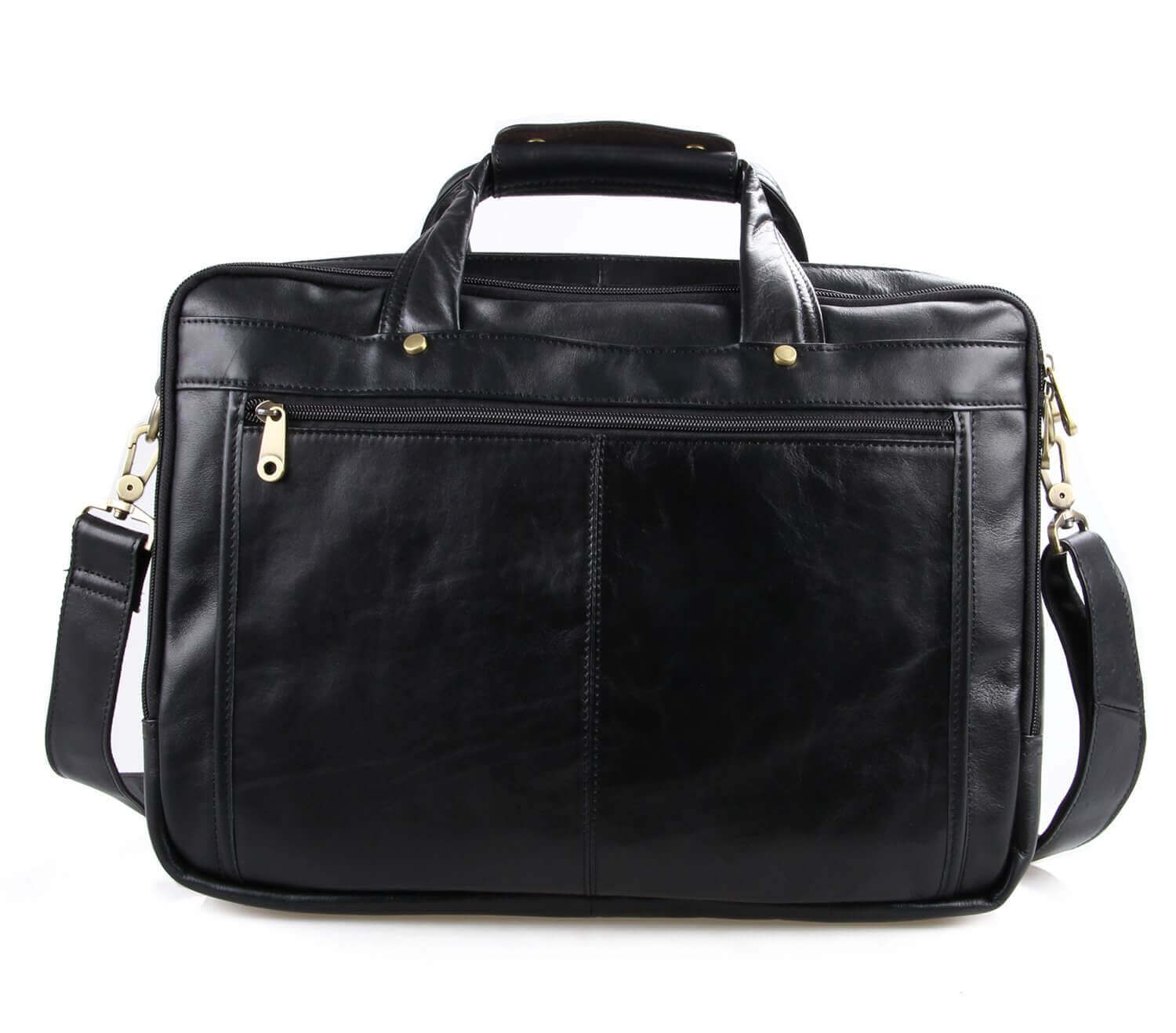 This briefcase is made of cowhide leather imported from Italy and it embodies the Italian artisan craft that we would expect. Also wonderfully lightweight, Texbo built this bag with a lot of room for your office necessities, whether your office is a building or your car. While only one pocket comes with the padding you would want for your laptop, it has plenty of space for another two laptops of reasonable size.
Perhaps the best thing about this leather briefcase bag, besides the mainly yet refined look, is its sturdiness and ability to take a beating and keep going. Because it was so well made, the bag has longevity that makes the slightly higher price point feel much easier on your wallet. If anything, the bag will become better with age, in terms of flexibility and looks, as the leather soaks in the years of service.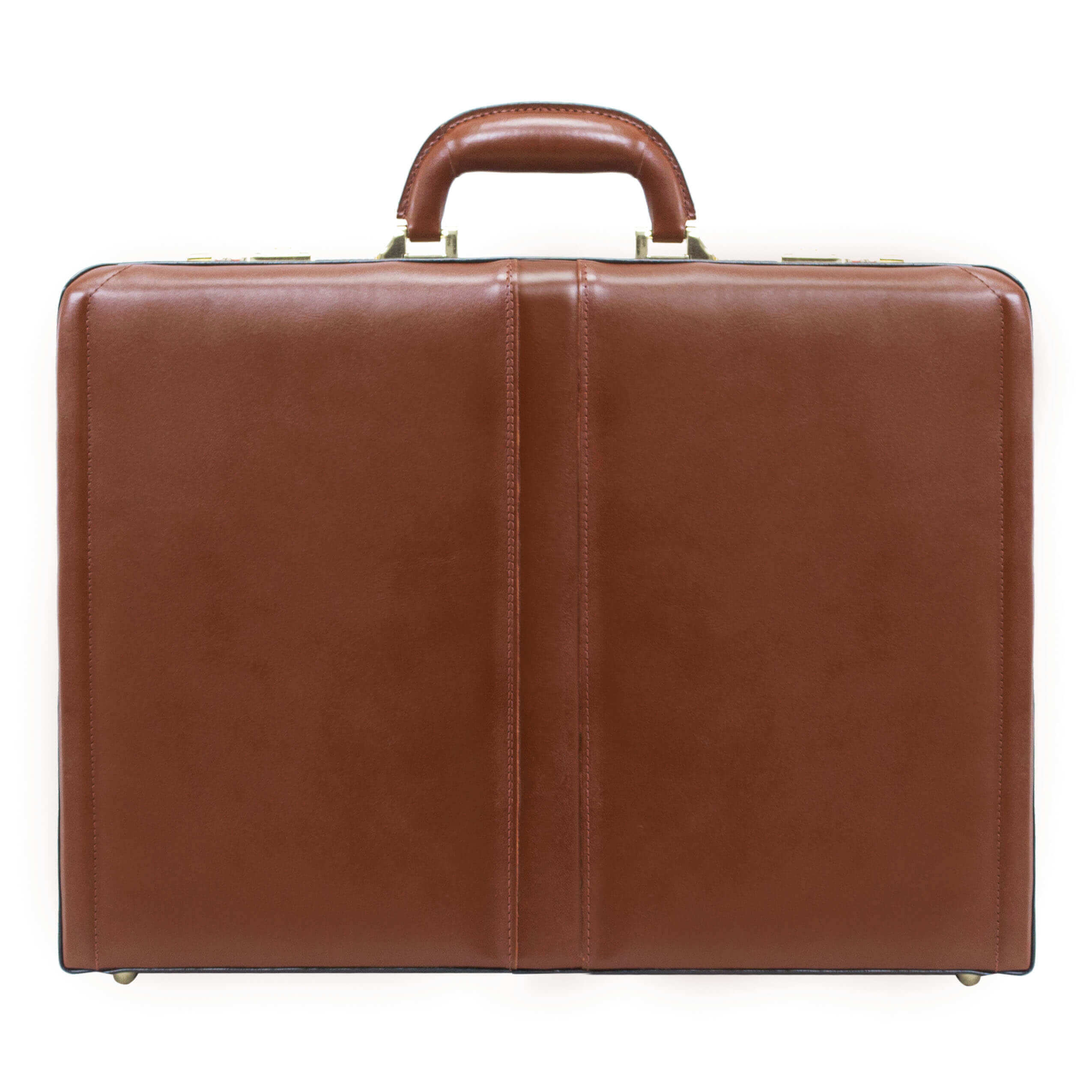 The McKlein Reagan Case comes in a very sharp brown that is sure to catch a few eyes. This briefcase differs from others we have encountered so far because it is a hard shell briefcase. While that does cause it to be noticeably heavier than its softer counterparts, it also means significantly more protection for the items inside.
It also features two, three digit combination locks on either side of the handle for added security. At 13 inches high and 3.5 inches wide, there is plenty of space for all of your important files and more. It does not feature a space specifically designed for your laptop but it does provide three well-sized pockets for papers that could easily fit a thin laptop or tablet. We don't want to highlight this as it's best feature but the truth is that this briefcase actually looks and feels much more expensive than its very modest price.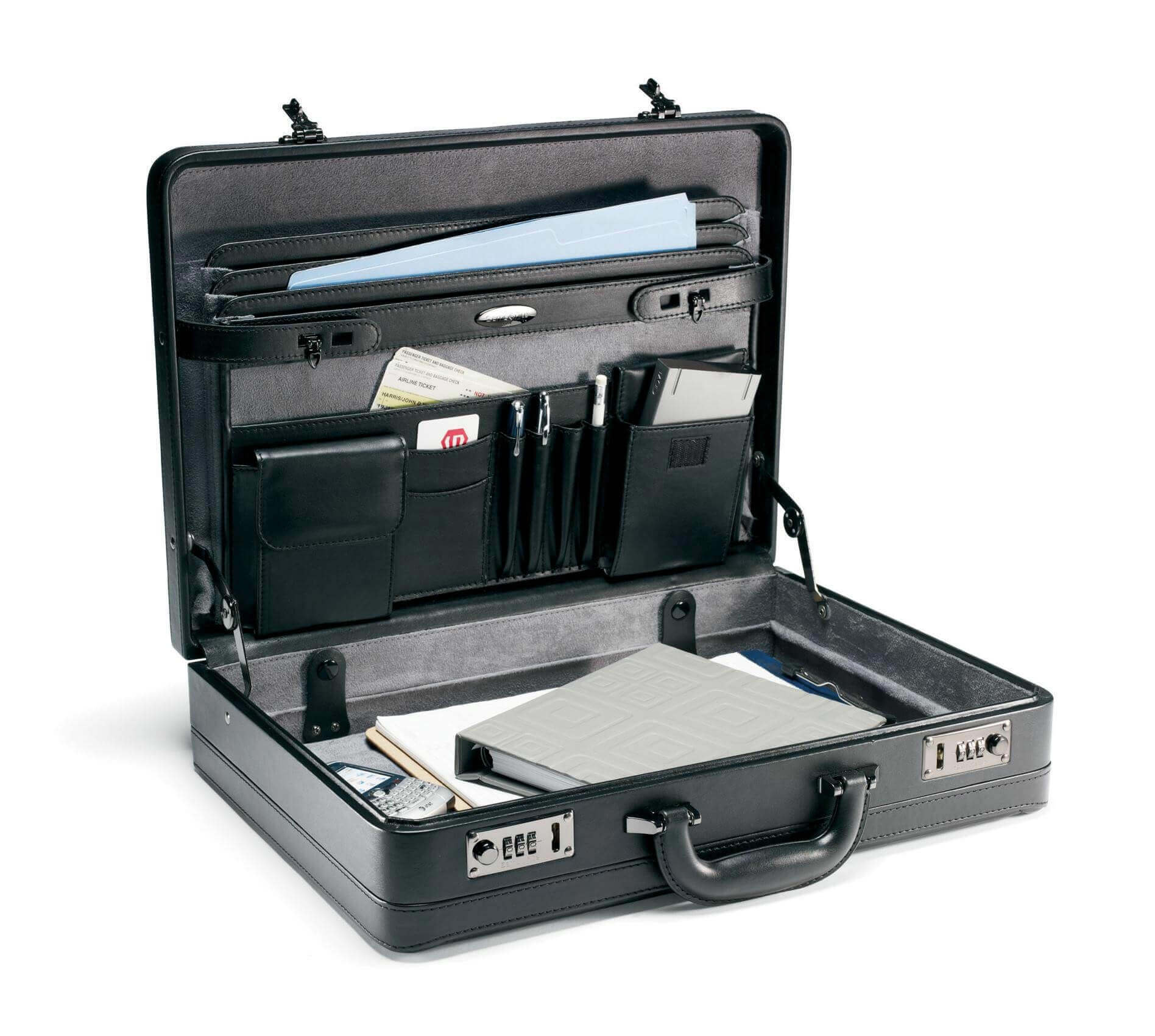 At over 4 inches wide, you won't have any trouble fitting your work items into this hard leather briefcase from Samsonite, a trusted name in anything related to luggage. This attache (essentially French for briefcase) is expandable to an additional 1 inch wide, something you usually expect to see with soft cases.
This briefcase also comes with a total four portfolios for your important papers and files. It's almost a portable filing cabinet at a fraction of the weight! The portfolios are held in place with a buckle can be unfastened to allow for easy shuffling through papers. Something that will come in really handy when you're looking for something specific in a hurry. The briefcase will also easily fit your laptop up to 15.6 inches. Like most hard briefcases, this also features two combination locks on either side of the handle except Samsonite used nickel locks to maximize security.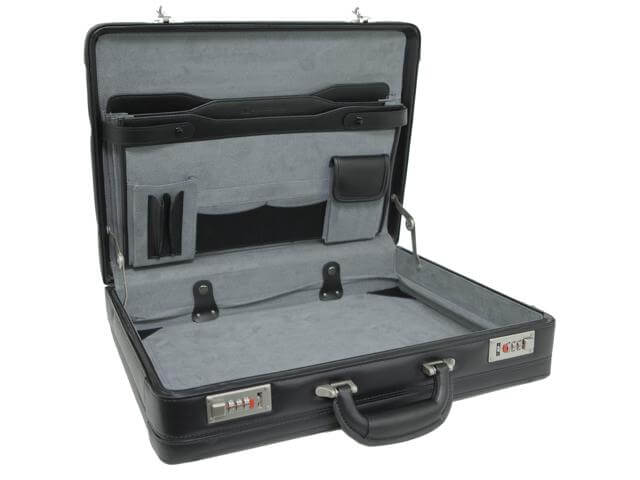 This hard briefcase from Alpine Swiss is wonderfully easy on your wallet and it still has a lot of the great features of the briefcases twice its price. The internal measurements are 17.5 inches long and 3 inches wide which can be expanded to 4 inches.
The bottom of this briefcases has four metal 'feet' to protect it from whatever surface you may set it on. If you're in the big city and public transportation is how your get to work, setting briefcase on the pavement while you catch the 7:30 won't leave any wear and tear on your trusty briefcase.
This best part about this briefcase from Alpine Swiss is that it's well under $100 USD which is rare for a quality hard briefcase. When the compliments come in, just don't mention the price!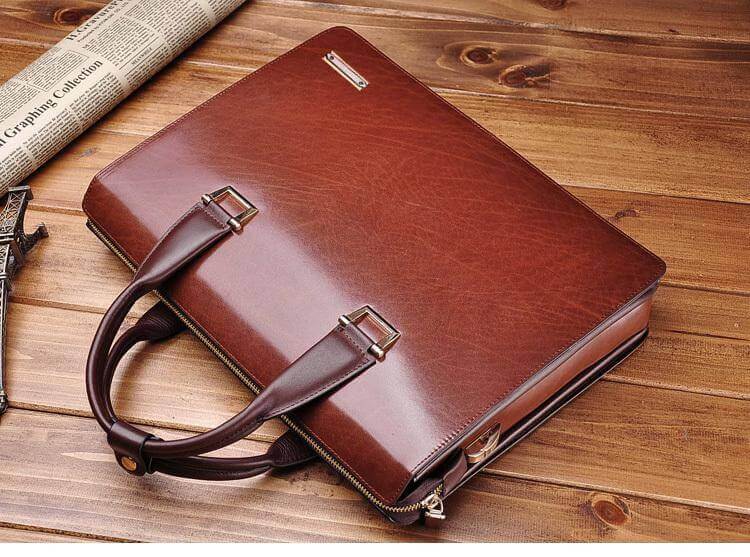 This is our most expensive entry but at less cost than higher end brands it's still a great deal. This genuine cowhide leather briefcase bag is oozing with class and style. Because it's a soft briefcase, it doesn't come with a locking device but the craftsmanship and design more than makes up for it. If you're not a sharp dresser, forget about this briefcase. It will only be suited in the hand of man with style sense.
Practically speaking, Teemzone provided a space specifically for you iPad Touch while also saving a spot for your 14 inch laptop. Besides those two pockets there are many more for smaller items and a final main pocket for your important papers.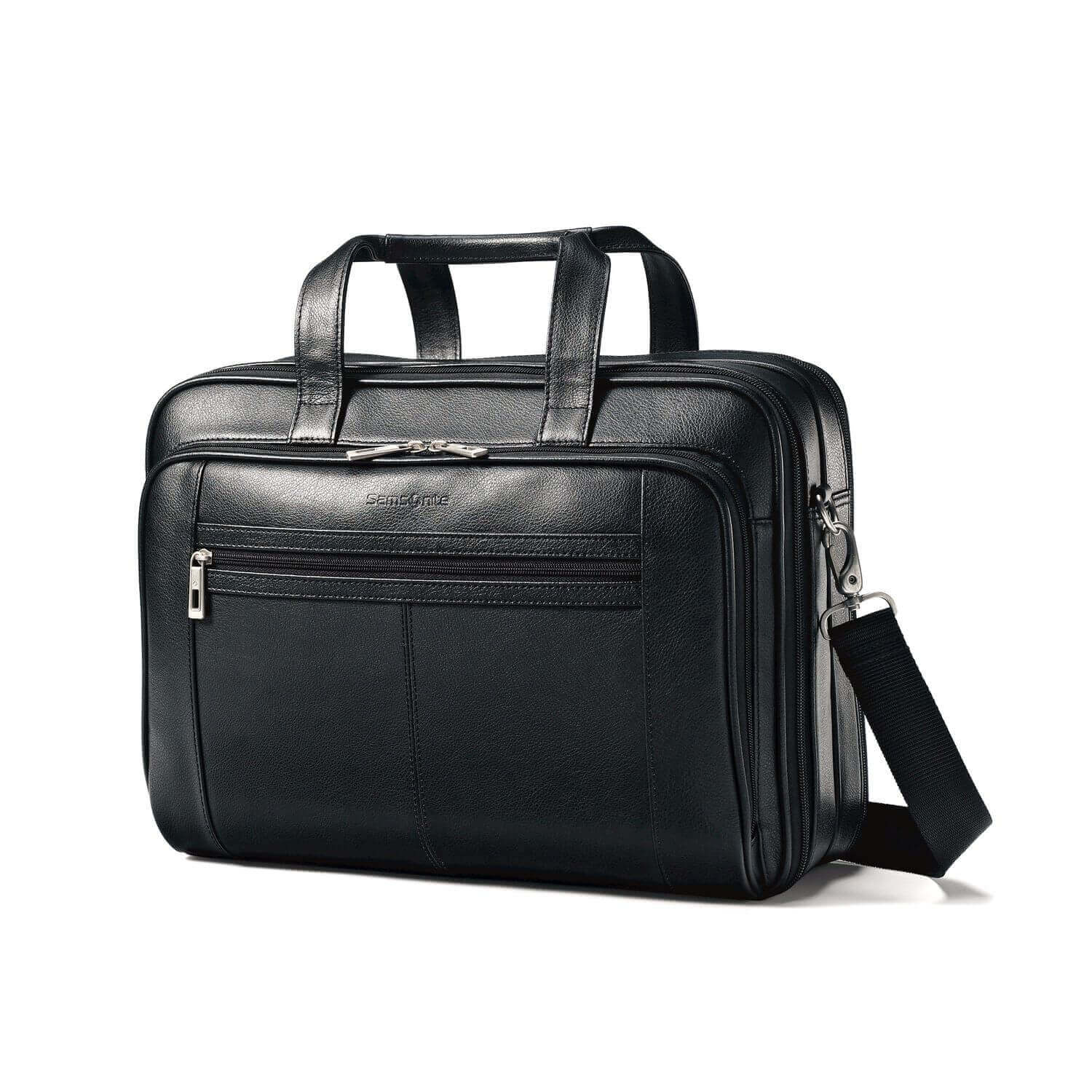 This expandable leather briefcase is truly the working man's briefcase. Don't let the fact that it's a soft case fool you. This can take a beating and still look great. It has more pockets than you will know what to do with.
In a nod to it's luggage heritage, this soft briefcase from Samsonite comes with a SmartPocket which allows it to easily slide over the handle of a suitcase with wheels for efficient mobility. Now you won't mind the cross country business trips because your quick walk to your connecting flight just got a little easier.
And as expected, you will not have any trouble fitting your 14 to 15 inch laptop in this great bag!
Conclusion
Dressing for success goes beyond the wardrobe. These leather briefcases can be the best for setting you apart from the pretenders and showing that you mean business. Don't be afraid to stand out from the crowd.