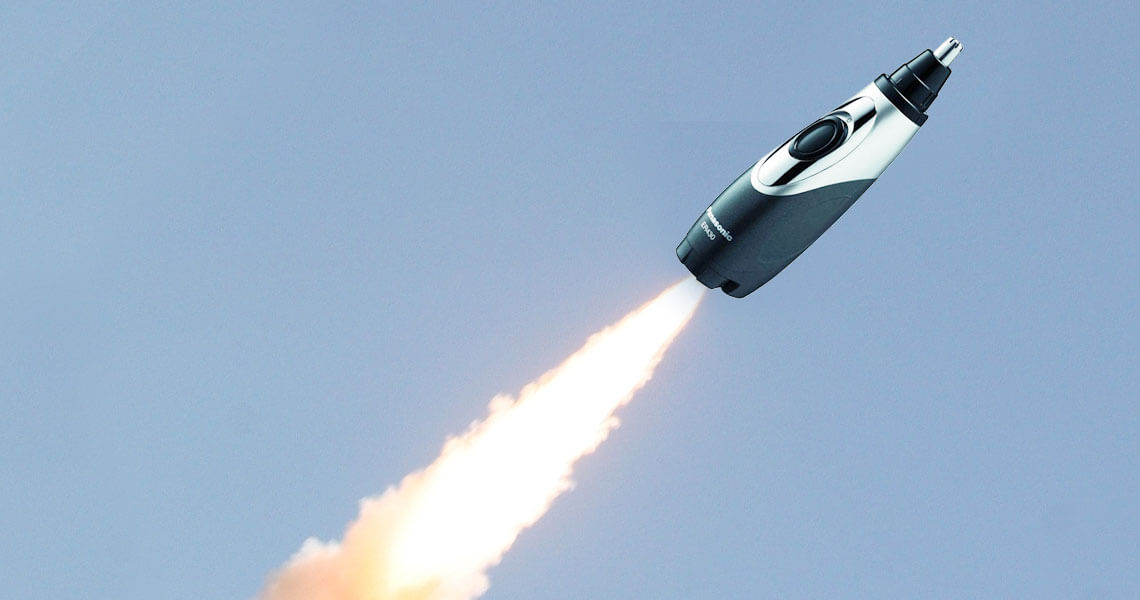 The 9 Best Nose Hair Trimmers Money Can Buy
Why Grooming Should Be Your Priority
It's a beautiful, clear, and crisp sunny fall day as you stroll down the street on your way to the office with your double shot pumpkin spice soy latte. Your beard is looking spot on because of our guidance with the perfect beard combs and brushes. All of your work documents and electronics are secure and safe in your stylish messenger bag. Damn, you look good! You're ready to conquer the world. But wait! There's one thing you forgot about: Those unsightly and – yes, gross – straggly nose hairs (and ear hairs). "Really?" you ask. Yes, yes, and for shame, yes!
But alas, we have yet to introduce you, our dear cultured and socially conscious gentleman, to the best nose hair trimmer and best ear hair trimmer that money can buy. "Is it really that big of a deal?" you persist. Allow us to illuminate for you the severity of those repulsive follicular freaks of nature that protrude from the visually obvious orifices on your head. They are an affront to the very modern masculine man of refinement you strive to achieve.
How not to ask a woman out
Allow us an anecdote based on the above-described day. Before you reach the office you notice a rather attractive young woman petitioning the sponsorship of impoverished children across the globe. She is finishing up with another person and you can't believe her radiance. Her smile, her eyes, everything about her is flawless. As she turns to you, for the briefest moment, the glint in her eyes and her smile fade to an almost repulsed demeanor. But she recovers quickly. You glance down to ensure your fly is not wide open. Nevertheless, you have a cordial and informative conversation about the plight of children and even Syrian refugees. You agree to sponsor a child. As you leave you hesitate, smitten with her beauty, and turn back to ask her out for coffee later in the day. Her bright smile fades and says, "Oh, I'm sorry. I'm married."
Now, you know that she had no ring on her finger. You notice these things before you ever attempt to ask a lady on a date. Something was wrong. You picked up on all of the clues. Her fading smile, the diminished gleam in her eyes; something turned her off. You decide you simply weren't her type and continue to the office with that extra spring in your step (because you know you're sexy as hell). Hell, you can't win 'em all, right?
Before heading to your desk you use the restroom and as you wash your hands you glance in the mirror to examine the impeccable example of masculinity that is you. You tweak your hair and run a beard comb through that impressive facial follicle forest. And then you see it! It's unmistakable! It's the reason that beautiful young woman shot you down. There, streaming from your nostrils, those monstrosities that made you queasy looking at your Grandpa: NOSE HAIRS!! They didn't just show up overnight. Chances are they have been there all along. You have just been so preoccupied with the other lessons we've been providing that you didn't notice. Don't be that man! No wonder she shunned you. You feel like vomiting yourself.
The top Grooming priorities every man should have
That poor soul in our story above is indicative of the mistake so many men make when trying to impress the ladies. You are so enthralled with making a great impression that you neglect to examine the entire package. Women not only want a man who is dashing but also elegant, dapper, and even rugged like a beastly mountain bear. She wants it all! One of our pet peeves, as well as most women, is a man with bad grooming habits; or a lack thereof. And nose hairs are right up there at the top of the list.
Every day millions of men succumb to the foibles of silent chastisement for those disgusting and unsightly protruding nose hairs. There are a number of missed opportunities due to these seemingly mutated growths emanating from your olfactory orifices. Being shot down by a beautiful woman, as our example above demonstrates comes immediately to mind. How about that promotion you're going for at work? Your boss man is silently telling himself there is no way he is putting that nostril forest in front of prospective clients. And that waitress that usually comps your desert? Just let her get a gander at those booger-clogged strands. No cake for you!
It's a travesty, we tell you, an utterly avoidable travesty!
Get Those Nose Hairs Under Control
What can you do about it, though? You can stand there in front of the mirror and try grasping those hairs with fingertips or tweezers and pulling as hard as you can, screaming like a girl, tears running down your face, even sneezing all over the mirror. Or go to the Dollar Tree (you know, the place where everything is $1) and get yourself a pair of curved scissors that will fall apart after one or two uses. Going that route will inevitably result in blood being drawn. Both of these options will undoubtedly have you dancing like Michael Jackson across your bathroom floor. Definitely not cool! We strongly urge you to avoid these tactics.
What you want – no – what you need is the best trimmer your hard earned dollars can buy! And don't forget about the best ear hair trimmer. Where to start? What are the best brands? Is there even such a thing as a nose hair trimmer brand? So much confusion, so many questions!
Have no fear, friends. Here at Modern Follicle, we've gone to the trouble of putting together some nose hair trimmer reviews of the best machines from the best brands in order to help you get started on the path to better follicles and much better first impression with the ladies and others.
Pay close attention as we check out the top devices and "trim down" to the best of 2017 you can get online right now:
The Best Nose Hair Trimmers Of 2017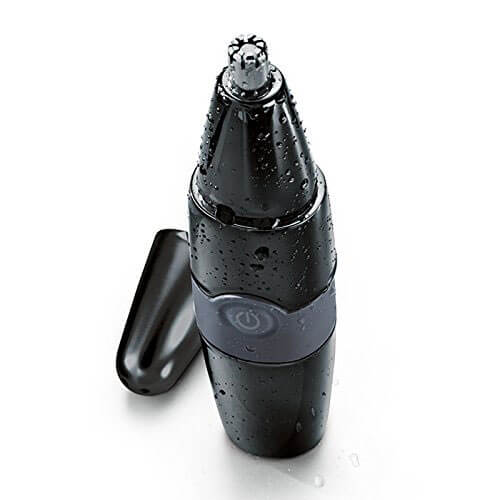 At the top of our list is the Nose and Ear Trimmer Pro by Brookstone. One of the reasons this tops our list as well as the best ear hair trimmers is its water resistant feature. Use it wet or dry. The silicone grip keeps it secure in your hand while trimming. With stainless steel cutting and extra reach, it keeps the skin safe from nicks and cuts. It requires 1 AA battery that is "not" included. The no snag system makes trimming those unwanted hairs comfortable and pain-free.
The only drawback to this one might be the price. But come on, guys, given the story of that fateful encounter with a beautiful woman, can you really argue about price?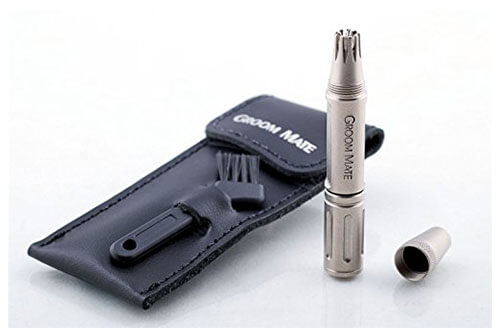 Next up is the Groom Mate Platinum XL Professional. This wonder is crafted with stainless steel construction that will never rust. It's manufactured in the good Ole U.S.A and comes with an unconditional lifetime warranty. The redesigned rotary blades allow for a close and comfortable grooming regiment. The leather pouch makes for easy travel and the included gift box is perfect for birthdays and Christmas presents.
Please note: This is a manual trimmer! That might seem a turn-off to some of you. But let us explain why this can also be a plus in our eyes. No batteries to worry about having on hand. There's nothing worse than having those hairs sticking out and the batteries going dead. Or, if you use a rechargeable trimmer, forgetting to put it on the charger will result in lost opportunity to freshen up those nose hairs.
The PLUS! It is not bulky. Having it in your pocket for when you notice those stray hairs can be the difference of an awkward moment and crisp presentable elegance. The screw-on cap keeps the blades and guards safe from damage.
For best results twist the blades in both directions quickly instead of in one direction continuously.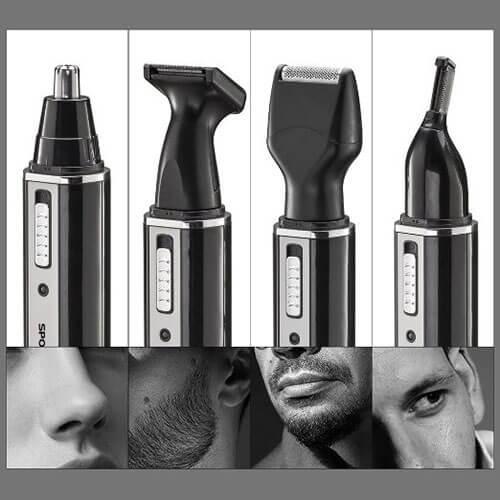 Continuing our hunt for the best nose hair trimmer we found this gem. The Betevo Rechargeable Stainless Steel Trimmer is even water resistant. Use of this trimmer in the shower makes for easy rinsing and cuts down on beautification (yeah, we said it) time. The 360° blade cutting systems creates clean and smooth cut hairs. Aside from the nose and ear hair trimmer attachment, there are three other alternative attachments for your grooming needs, though there are better sets for that. Overall, this is an exceptional nose and ear hair trimmer. It also comes with a 100% Lifetime Guarantee.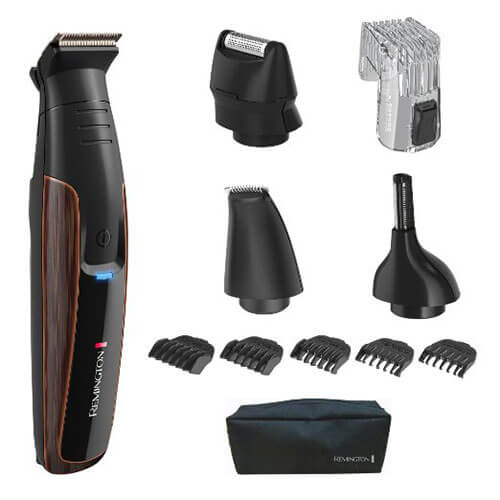 The Copper Edition Crafter by Remington features super strong Titanium coated blades able to cut through the coarsest hairs. And we all know how tough those nose hairs can be. Get up in there with a pair of scissors and you can hear them snap when you clip them. Yuck. The Remington Titanium blades are Boss.
One of the top favorite features is the lithium battery that provides 180 minutes of cut time. We love it because you know how forgetful we are. Many other products will lose their charge. No Worries here. The other reason that battery is a favorite is the power it provides to those Titanium blades. Used in Turbo Mode, nothing can stop it.
Another great characteristic is that the Copper Edition Crafter is waterproof. That's right. You can use it in the shower if that's how you role. We just hope you have a mirror in there. You don't want to poke your eye out, now do you?
And lastly, for those guys that travel, they included a carrying pouch. No bulky bag to get in the way. Guys, we pack light. You know it. It just leaves more room for all, yes ALL of our ladies' things.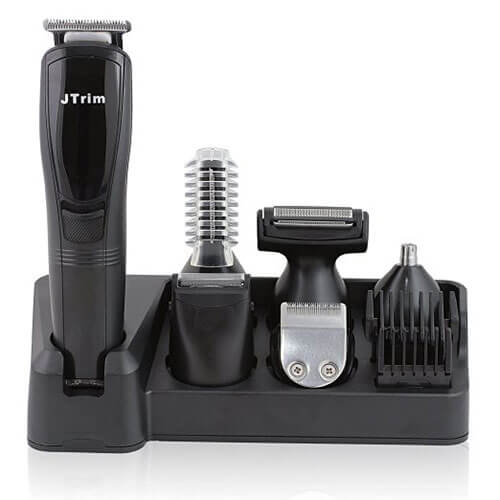 The JTrim Ultimate Pro Groomer Kit is another great little kit we love. We won't spend too much time on it, however. We particularly like the handy rechargeable stand. It holds everything neatly in its place and provides 50 minutes of use between charges. If that's not enough time, well, you're one hairy guy. Rock on!
But the reason it's on our list is the great nose and ear hair attachment. The unit itself is powerful and quiet with no vibration. With the nose hair attachment in your nostril who wants they're hand bouncing around. But no worries with this trimmer, just look at the tip. It fits comfortably in the nostril or ear without fear it entering too far to cause damage. It gets the job done nicely.
The Creation Springs Nose and Ear Hair Trimmer comes with some of the sharpest blades and most dependable motors out there. No cluster of batteries hanging around getting in the way because it's rechargeable. It comes with two extra attachments and a cleaning brush to keep unclogged with hair. But the best feature we like is that it comes with a spare nose and ear blade attachment. This is why we believe the Creation Spring is one of the top trimmers and ear hair trimmers you can buy.
The only drawback we could find is that it was a little tough changing out the attachments. But in a way, that's a good thing. Who wants an attachment popping while stuck up your nose?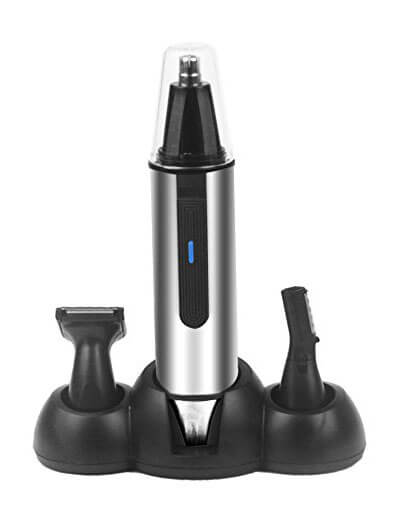 The HLYOON Stainless Steel Nose Hair Trimmer is another of our picks for the best nose hair trimmer you can get your hands on. The stainless steel blades do a nice job of getting rid of those pesky peaking nose hairs. It comes with two attachments and a convenient stand to keep things nice and tidy. It even has a built-in penlight so you can see up close and personal. A good thing? Yeah.
It is waterproof which makes it perfect for use in the shower. It is electric but runs on one AA-battery. That means no cord cluttering up the counter and perfect for travel. It makes a great gift for any guy.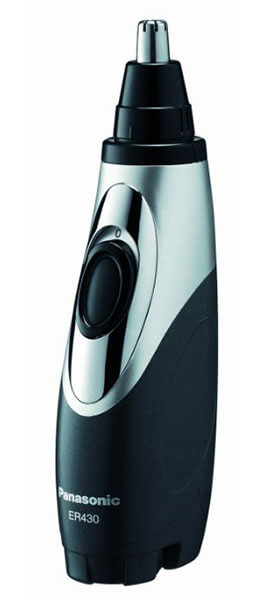 The hand dandy Panasonic Nose and Ear Trimmer is phenomenal for several reasons. First, it has a sexy and stylish design. We know clipping nose hair isn't all that glamorous but why not feel at least a little sexy while doing it. Plus it is an ergonomic design. It fits perfectly in your hand.
Second, it's waterproof. And just like we said above, if you like to do your nose business in the shower, this ones got you covered. It takes one AA-battery, which makes it great for those weekend getaways with your special woman. You want to be able to get any those quick growing buggers before she sees them. Remember the poor guy at the beginning or our list?
And finally, the main reason it made our list: It has a VACUUM!! Oh yeah, baby. We think that's pretty freaking cool. No need to pull it apart and brush those hairs away, or sneezing if you're sensitive loose hairs. The vacuum pulls the hairs as their cut into an easy to clean collection compartment.
Get one for yourself and your Dad.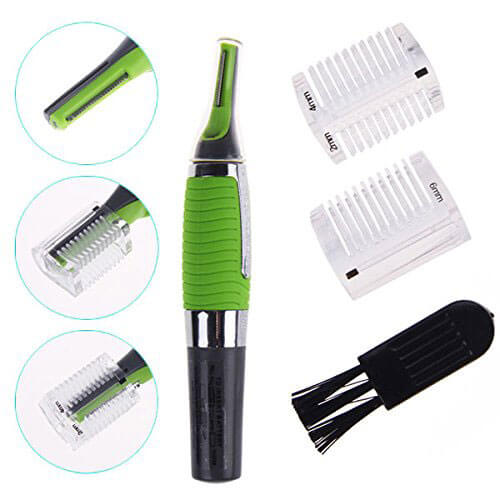 Finally on our list of the best nose hair trimmers is the Micro Touch Max Personal. If number 8 was sexy, this one is just plain cool looking we think.
It's powered by one AAA-battery. It also comes with two different size combs for different length eyebrows and mustaches.
It's sleek and stylish and small enough to fit in your dinner coat pocket. You know, for when you're out at the restaurant and use the restroom. You wash your hands and look in the mirror and notice that dangling straggler that seemed to grow out of nowhere. No problem. Poof, it's gone. You don't want to gross your woman out as she's eating.
So What Are You Waiting For Guys? Get To Trimming
Discussing the trimming of nose hair is neither romantic nor something usually discussed in mixed company. Hell, it doesn't even have to be mixed company. How many times have you been at the gym and hear some guys standing around talking about it?
No, it just doesn't happen. But remember that poor shlub at the beginning of this olfactory follicular adventure? We implore you our modern refined gentlemen, Don't Be That Guy!
This is why we created this list so you can decide what the best nose hair trimmer of 2017 there is for you in your nostril. Read back through and think long and hard on the reason why you need one.
Good Hunting And Happy Trimming!