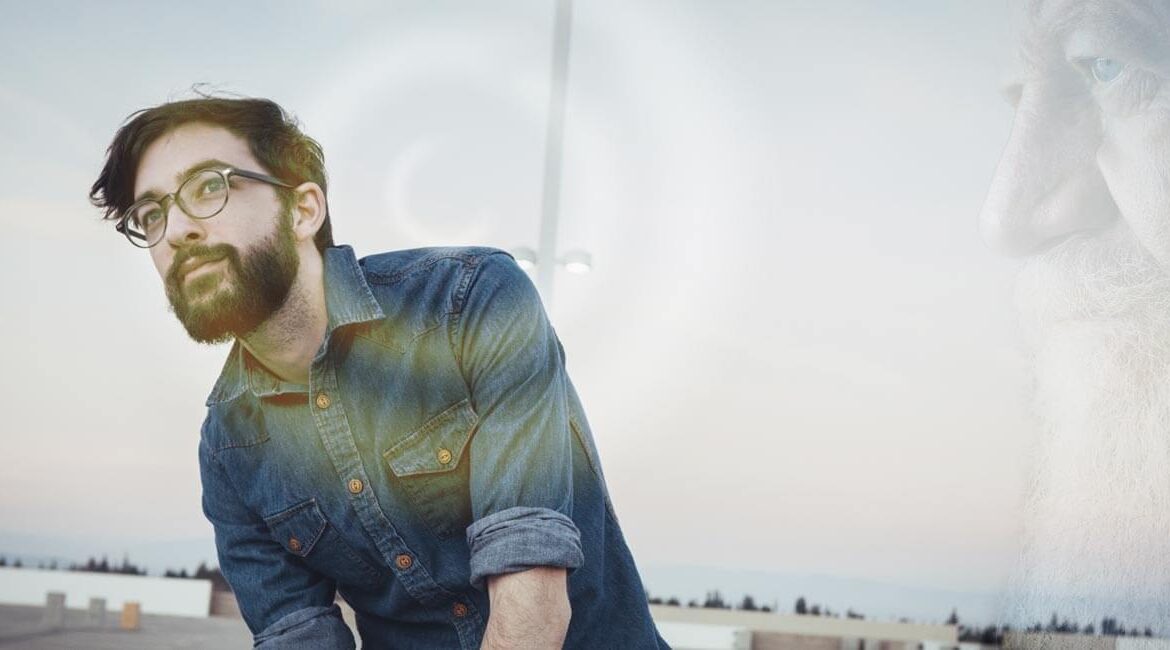 The Best Beard Comb You Can Use Without Feeling Like A Complete Hipster
The Best Beard Comb For You
So you want to grow a beard. Ok. What kind of beard? Yeah, there are a lot to choose from. It is the "in" thing if you haven't noticed. But once you grow that beard you're going to need to care for it. It's hair, right? You have to keep it neat. We will certainly help you to find the best beard comb possible with our list below of our 7 best picks.
As we said above, the beard "craze" seems to have reached fever pitch. In decades past, the beard was either a sign of distinction like scientists or professors; or rugged manliness like lumberjacks or rough and tumble bikers. It's really hard to pinpoint exactly when the beard became a fashion statement. We tend to believe it has been a gradual process.
But we also think that there may have been a bit of a revolt against all of those expensive cartridge shavers. You know the ones, 25 bucks for a three pack of "smooth glide" "quadruple blade" shaving systems. That's why we introduced you to the lost art of shaving with a straight razor awhile back. That is if you want to keep shaving. But since you're here reading this — maybe not.
What To Look For In A Beard Comb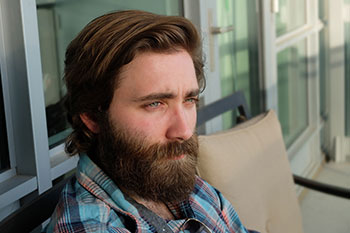 Probably the most important thing you want to look for first is quality. If you think you're just going to run into Walgreens and grab the first comb you see, well, that's just hairacy (we know, that's not how you spell it). Cheap plastic combs are made from molds in big factories (mainly in China). They get punched out leaving tiny jagged edges on all of the surfaces of the teeth of the comb. This will cause tears in the beard follicle, which leads to split ends, which leads to trimming more often, which leads to a really unhealthy looking beard. Stay away from those types of combs!
What you want in a synthetic comb is one that is handmade. If it's handmade it's a good bet there is some craftsmanship going into it. For example, the material is much sturdier than those drugstore combs. On top of that, the teeth are usually polished in-between as well as on the tips of the teeth. No catching on or pulling out your hairs.
Wood Combs VS Plastic Combs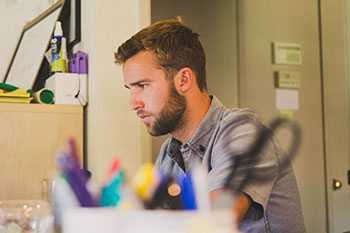 That's the $64,000 question. It all depends on whom you ask. The debate rages on, however, and you could ask a hundred guys which one and why and you will probably get a different answer from each one.
Wood combs, though, can run into the same trouble as those drugstore, China made, barbed wire like cheap combs. Unless they are superior in their construction, eventually the same results will occur. Why? Wood splinters. You then may get little pieces of wood left in your follicle forest. But unlike the punched out ones that will scrape and tear, with wood combs, you will get snags and pulls (ouch) and you will notice more hair being pulled out. And if you already have a patchy beard in some places – nothing good can come of that. But as we said, high-quality wooden combs can be just as effective as excellent synthetic combs.
Beard Combs Or Beard Brushes?
There are some distinct advantages and disadvantages of both when it comes to your face's follicular fortitude (ok, we'll quit it with the alliteration).
Above we mentioned patchiness in your beard. If that is your problem then a brush or comb can help you out. A brush will help your beard look fuller, thus helping to conceal those less dense areas. A comb, on the other hand, gives you more direct control by shifting hair to cover those spots.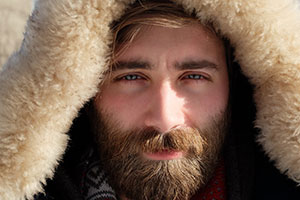 High-quality beard brushes have bristles made from animal hair and of different lengths, which allow them to reach different depths into your beard and even your skin to stimulate the follicle. There are good quality synthetic brushes as well. A comb can do the same thing, but the teeth are much harsher on the skin and can even cause irritation. Both combs and brushes will also help train your follicles to grow in the same direction.
If you use beard oil (which you should and we'll cover that in a different article) a brush will retain some of that oil for later use in the day. A comb just can't hold onto it. But if you use beard balm such as beeswax (also another article), a comb will give you more styling control than an animal hair or synthetic brush, allowing you to shape your beard as you wish.
Our Top 7 Best Beard Comb products
We could go on and on and on, but let's just get right to the list so we can give you a more in-depth look at our top picks for combs and brushes.
So, the first thing you need to decide is what kind of beard you want to grow. Each beard style has different needs to maintain. If you let your beard get too wild and untamed you might just find yourself being offered money from complete strangers mistaking you for someone who is residentially challenged. You're going to need the best beard comb or best beard brush to keep your beard looking fantastic.
So sit back, stroke that chin hair (it really doesn't help it grow faster) and check out our list of the 7 best beard comb options you can use without feeling like a complete hipster.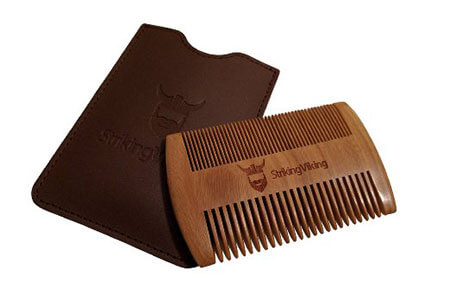 This wooden beard comb is made from 100% sandalwood, which leaves a pleasant fragrance to linger in your beard. Unlike plastic combs than can develop static electricity, this one won't because, you guessed it, wood is not a conductor. The picture is a little misleading as the description and customers comment that both sides are fine toothed. It's durable enough to carry throughout the day. The Striking Viking Sandalwood Comb touts awesome reviews.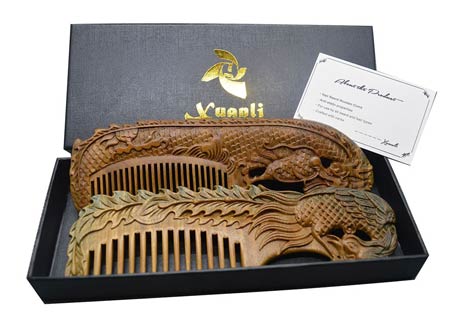 In our attempt to find you the best beard comb, we found this gem of a combo set. The Xuanli Natural Sandalwood Combo is crafted from green sandalwood and just as above, its fragrance will delight you. The intricate design is very oriental. One comb has wide teeth while the other has fine teeth. It comes in a very nice black gift box perfect for birthdays or Christmas. When using, be careful of tangles as it could snap one of the teeth on the fine-toothed comb.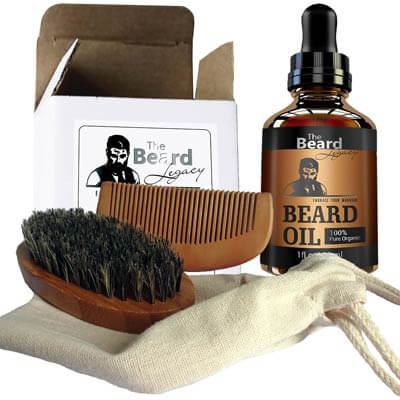 The Beard Legacy Combo Kit is 100% Natural. Yes, all three products. The comb and brush handle are made from bamboo and the brush bristles are real boar's hair. The beard oil contains Jojoba and Argan oils to leave your beard soft and healthy. Some complain that the brush bristles are too soft, but as we stated above, different beard styles need different care. If you have a long bushy beard a brush like this is probably not for you. But if you are just getting started, this combo kit will have your beard looking fantastic!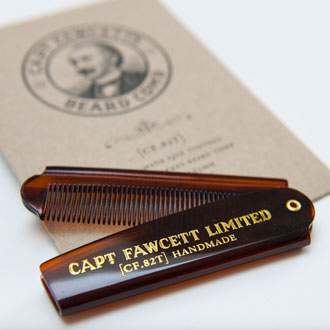 The hand dandy Captain Fawcett Folding Pocket Beard Comb is ready anytime your beard needs a touch up throughout the day. It's handmade too. Remember what we said about handmade combs above? It is synthetic but durable enough to safely carry in your pocket without fear of it breaking. Only one guy complained about the price. Come on guys, you pay for quality. Isn't that fine beard worth it?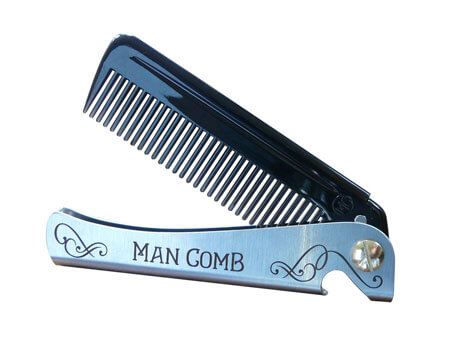 The Man Comb may be the best beard comb ever, well, close. It's crazy manly with its steel case and laser etched graphics. The folding comb is made from durable material similar to airplane windshields. Now for the piece de resistance (French for the best part): it has a built-in bottle opener! Yes, our hirsute friends, your beard will look great while enjoying your beer. Some customer reviews – badass comb for a guy, cool effing comb,
will make you the envy of all the cool kids. Man up with this awesome comb!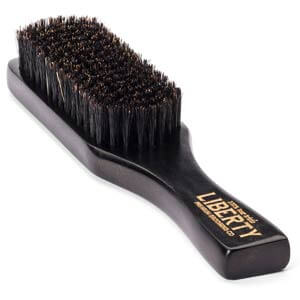 The Liberty Premium Beard Brush seems to have the same drawback as the above brush. The biggest problem, some reviewers say, is that it doesn't go deep enough. It is made with 100% boar's hair and the handle is made from European Beech Wood.
Let us reiterate what we've said already: The style of beard will necessitate what kind of products you use. We searched and searched for the best beard brush and we fell this one is at the top of the list. Ultimately, a brush is the best tool for applying beard oil for an attractive, healthy, and lustrous beard. It stands up to be the best beard brush for your needs.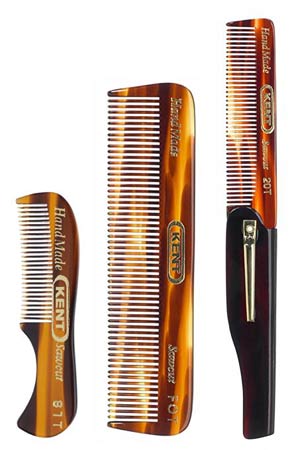 This Kent Gentlemen's Comb Set comes with a beard comb, a mustache comb, and folding comb to carry with you all day. Kent is number 1 on our list for the best beard comb products for your beard. First, these combs are handcrafted and saw cut and then polished to eliminate the scratching and tearing of hairs like those drugstore ones we spoke about. Second, Kent has been making these high-quality products since 1777 directly from the UK. With that kind of history, these are by far the best of the best. Get your set for the durable handcrafted quality, but get it for the love of your beard!
The Best Of The Best Beard Comb and Brushes
We've scoured through hundreds of pages of information and products so you don't have to. It is our goal to give you the best-educated advice on the best beard comb and best beard brush we could find. Our beards are important to us and so are yours. Starting out for the first time with a beard can be a daunting task. Some of us just let them grow and grow without realizing that our beards are just as important as the hair on our heads (well, some of us anyway). But remember, your immaculate beard will be the first thing everyone sees. Make the best impression you can with that hirsute manliness. Get yourself a beard comb or brush or even a set to keep your follicle forest healthy and happy and wow that lady in your life!
Written by Michael Ricketson