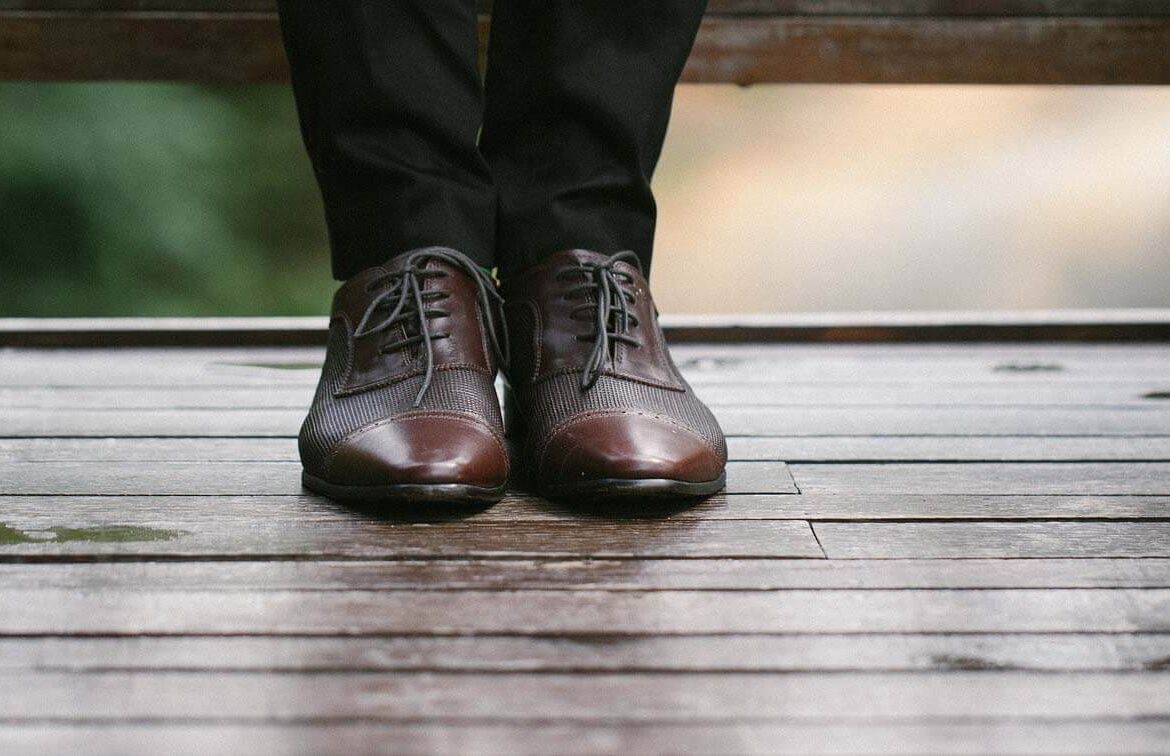 Guide to classic men's shoes
Welcome to our guide to classic men's shoes. Shoes have come a long way from their purely functional beginnings. They certainly still perform the critical function of protecting our feet but whether or not that is secondary to looking great is up to debate.
What is not debatable, however, is that there is nothing stylish about wrapping animal skin over our feet, as our ancestors once did in the Ice Age. Nor is there anything stylish about the early sandals that our later ancestors wore that were designed only to protect feet from the hot sand.
Any conversation about what a stylish shoe is must begin with a knowledge of the various types of shoes, the material that they are made of, and a brief history. All of which you will find in this men's shoe guide.
History of classic men's shoes
It's difficult to say when shoes changed from function to fashion but we do know in ancient Rome footwear was seen as a sign of being civilized. However, even before that, there is evidence that shoes were an indicator of the haves and the have-nots.
Many of the characteristics of fashionable shoes were initially designed because they were useful and they stuck around for that very reason. Heeled shoes, for example, were handy for horsemen who used the heel to hook into a stirrup while riding. But they were also popular with Louis XIV, who was a man of minimal stature, because he enjoyed the additional few inches of height. As is the case with many things relating to style, if it caught on with royalty, it had staying power.
Regardless of their popularity, shoes were still made by hand in a very long and painstaking process. It was not until the middle of the 19th century when the sewing machine was invented that a shoe industry, with some degree of automation, emerged. However, many gentlemen preferred footwear made by hand. Something which is still true today.
The oxford and the derby are two of the oldest styles of gentlemen's shoes. They were popular for almost a century spanning the later part of the 19th century and the beginning of the 20th. The monk style followed closely and brought with it the buckle, a characteristic not seen since the boot, which also found popularity in the early part of the 19th century.
Other styles of men's shoes which followed the monk were the loafer and the moccasin. We will discuss the various types of classic men's shoes in a later section.
Materials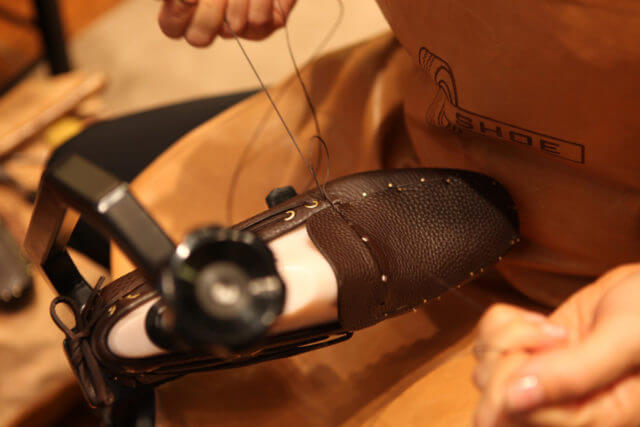 A gentleman's dress shoe is usually made of leather because it is both durable and flexible. Exceptions include synthetic leather or leather alternatives. Though, animal hide has been used to make shoes since the beginning of time. Here are the most popular materials for men's shoes.
Box Calf – This leather comes from the skin of calves under 12 months of age. The leather is black and the best box calf leather is said to come from the Alps. Brown leather from a calf under 12 months of age is known as Willow Calf.
Buckskin – Buckskin comes from an elk buck or deer buck. Buckskin is a popular material for men's shoes because it is particularly soft and pliable while still durable like other types of leather.
Chrome Leather – Essentially any leather that is tanned using the salts of the metal chromium. It is an alternative to vegetable tanning which uses primarily natural solutions and can take up to two months. Chrome leather can be accomplished in a day though it is more toxic. As much as 90% of leather is tanned using chrome. Shoes that are made with the traditional method of tanning are those associated with craft and quality – and are understandably more expensive.
Cordovan – The name of this leather comes from Cordoba, Spain which was famous for its leather in the Middle Ages. Cordovan leather comes from the inner hide of a horse's rump and is tanned with vegetable substances as is most high quality leather.
Patent Leather – Any type of leather – cow, calf, kid (baby goat), or horse – that is given a shiny finish through a plastic coating. Originally, the shiny finished was achieved by linseed oil–based lacquer coating.
Suede – Suede is made from the underside of animal hide though primarily lambskin. The animal hide is buffed to create the soft, thin, and pliable material. Interestingly, the name is French for Sweden.
French Calf – French calf leather is a fine, high quality made from the hide of young cattle. It's finer and smoother doesn't have some of the characteristics of leather from older animals as a result of enduring the elements.
Exotic Leathers – There are several animal skins that are used to make high quality and sometimes rare men's shoes. Examples are snakes, lizards, ostriches, crocodiles, sharks, carps, rhino and elephants. While not always as comfortable as traditional leathers, that are unique.
Style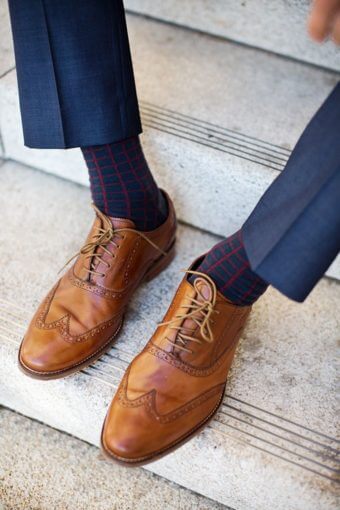 Great quality comes with great cost. Cost and quality are both directly related to the workmanship and reflects the skill, precision, and patience of the shoemaker. Remember, a true gentleman only wears handmade shoes. Though, it requires someone with a keen eye to determine the difference.
Custom-made shoes are ideal for the most stylish of gentlemen. If you can attain such a luxury as custom-made shoes, treasure them and treat them with care. The reward might be shoes and style that last a lifetime or longer.
However, you shoes don't have to be custom made to pass the test of real style.They only have to be handmade. In fact, there are plenty of luxury or near-luxury brands that sell handmade shoes with similar quality and comfort as custom made shoes.
Just don't settle for less than what you can afford. Lest you treat them as dispensable. The gentleman doesn't settle for anything that might be considered indispensable.
Formal Shoes
The gentleman will have many shoes. Shoes for sports, casual shoes, driving shoes and formal shoes – perhaps the most important and expensive pair of shoes in his closet.
Why are they the most important? Because, more so than any other, these are the shoes by which you will be judged. A gentleman's shoes reflect their style – or their lack of style, as the case may be.
There are many different types of formal shoes. All have their occasion or situation that they are the most appropriately suited for. Not knowing which formal shoe to wear at a given occasion could be a wardrobe catastrophe.
Oxford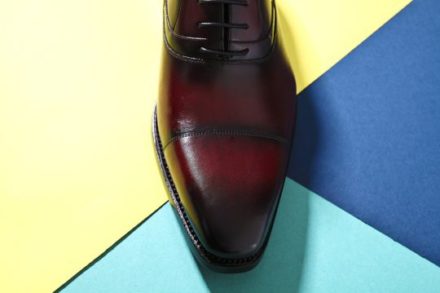 The oxford shoe is unmistakable because of the closed lacing style and shape. It is the definitive business shoe and if worn properly, is appropriate in more casual situations – though the classical oxford is far from a casual shoe. Rather it can be worn casually.
There are many variations of the oxford including:
Bal – a closed-throat version with laced front
Blucher – open-throat version
Gillie – a version without a tongue and lacing across the instep
Derby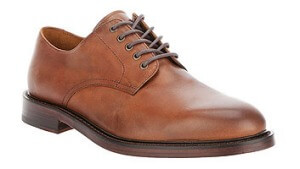 While not quite as popular as it's closed laced cousin, the derby is a classic in its own right. The derby is basically the opposite of the oxford as it features open lacing.
In the United States, the derby is often confused with the blucher variation of the oxford. They are similar but they differ in how the eyelet tabs are sewn into the vamp.
Wing-Tip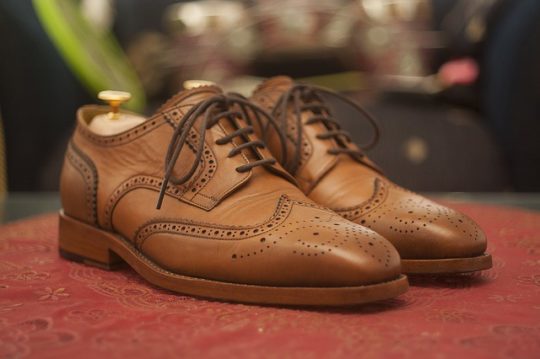 Another timeless classic shoe style is the wing-tip which differs from the previous two classic shoe styles in that a pair of wing-tip shoes are usually intricately decorated. It is the identifying feature of wing-tip shoes.
Looking at a wing-tip shoe, it's easy to see where the name came from as the toe-cap resembles the wings of a bird. The wing-tip is also considered a business shoe.
The Brogue
"Brogueing" means to punch holes in a pattern on the seams of a shoe – a distinguishing feature of the brogue. In fact, the difference between the wing-tip and the brogue is the punched pattern along the upper and double-stitched seems.
Monk
The monk dress shoe is reserved for the gentleman that doesn't mind bucking tradition – this is true even though the monk shoe in its current form has been around since the 1930s. However, despite the fact that it has been around for almost as long, the monk dress shoe is very different from the more traditional derby or oxford.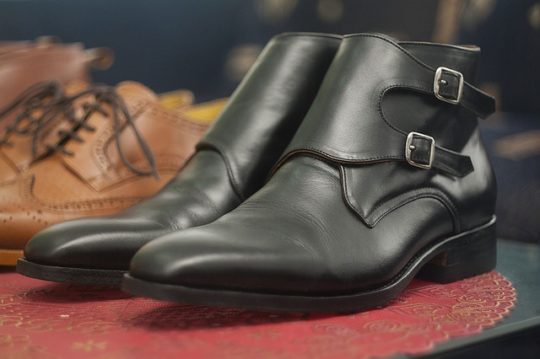 Moccasin
Though still classic men's shoes, the moccasin moves even further away from traditional shoes for men. If partnered with a suit, it would not likely be a classic suit. If not partnered with a suit, the moccasin, or related shoes such as the loafer or slip-on, will still feature prominently in the gentleman's wardrobe.
The moccasin is often associated with Native Americans. While Native Americans certainly wore a variation, we have Norwegian fishermen to thank for what we currently consider moccasin shoes. Their version of Norwegian fishermen consisted of two variations:
Weejuns – moccasins that were slip-on style and didn't require fastening or tying
Norwegian-front – moccasins that were lace-up style
Mocassins gave birth to several types of shoes which are common for a gentleman to own including the tassel loafer and the penny loafer.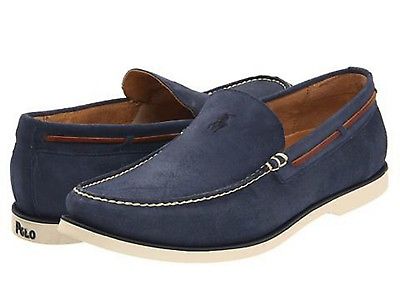 Boat Shoe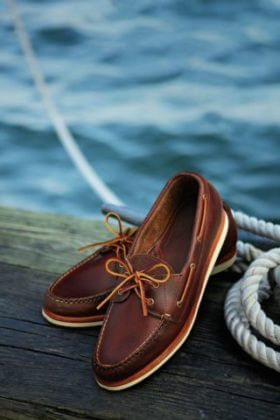 There is a common misconception about the difference between boat shoes and deck shoes. Both were originally designed for wear on boats or other slippery surfaces associated with boating. They excelled in this capacity because they were water repellent thanks to oiled calf leather.
However, the deck shoe is what most people think of when they hear the phrase boat shoe though, it's much more casual than an actual boat shoe. The deck shoe usually has laces that serve more as decoration with limited actual function. It is also noted for a lace wrapped around the quarter of the shoe through eyelets.
The boat shoe is a dressier shoe that does not have laces neither to be tied nor around the quarter. It is also a slip-on shoe but features a more pointed toe cap and often with a buckle.
Manufacture
Classic men's shoes are leather and nothing else. They are stylish and classy because of this but also because creating shoes that are worthy of a gentleman requires precision and an artist's touch.
There are over 200 processes that eventually culminate in a gentlemen's shoe but not without careful stitching of the animal's skin from the upper to the sole
A reasonable question might be, why leather? Why the skin of an animal? Well, the answer is because of the same function that the skin provided while it was attached to the animal – ventilation for the perspiration that rises through the porous material eventually evaporating into the air. It is this quality that makes leather the ideal material for a gentleman's shoes.
Combined with the other subtleties that are often overlooked when considering what it takes to manufacture a truly quality classic men's shoe, the result is something that is much more than a shoe. Indeed it should be considering the cost. The result is something that becomes a part of your foot – an extension of it, if you will.
Becoming an extension of our feet, and a fine looking extension at that, is why we shine, brush, apply, condition, and polish our shoes regularly and why our leather shoes last for as long they do provided we continue to take good care of them.