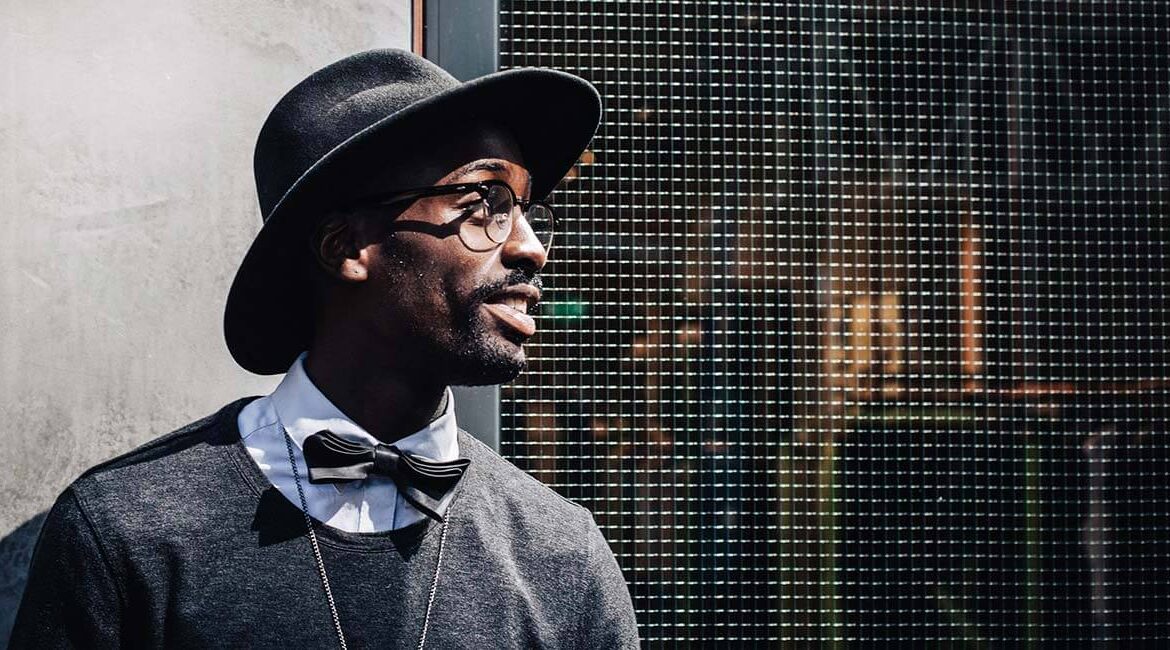 How to Wear A Fedora
There are few accessories that exude class and style quite like the fedora. While it may not have quite the influence that it did in the first half of the 20th century when Prohibition era gangsters and Frank Sinatra were setting the style trend, and doing it well, we might add, it's fair to say that it has made a comeback of late. But figuring out how to wear a fedora to suit your style can be a bit tricky.
Before we get into how to perfect your style with a dashing fedora, it's worth stepping back in time to remember that it was actually first worn by a woman, Sarah Bernhardt, in the play Fédora in 1882. The hat in its current form, with a gutter-dented and side-dented crown and a thin brim that is usually snapped down in the front and snapped up in the back, didn't become a popular accessory for men until Edward VIII, Prince of Wales popularized it in 1924. At the time, men of style from entertainers to well-dressed gangsters took notice. The rest, as they say, is history.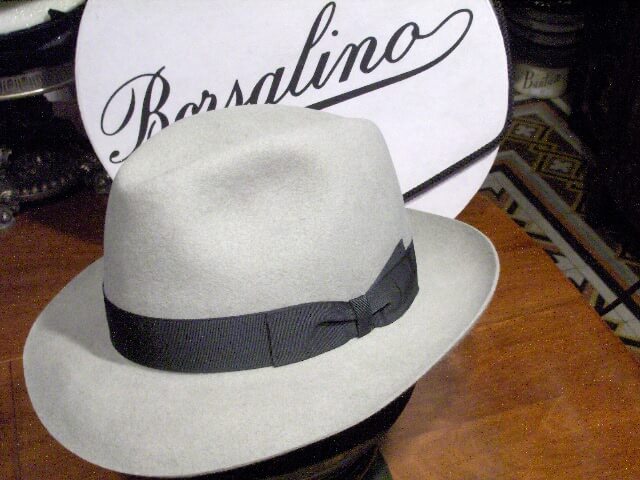 The fedora does quite well as the final piece to a suit and tie but dressing it down without looking like you're in a boy band is slightly more difficult, though it can be accomplished. Those who know suggest that a fedora will only serve to increase the dressiness of your outfit. Ultimately, your style is your own and how well you wear it with confidence will determine whether your outfit is a success or not. With that in mind, here are four of Hollywood's most stylish men and their fedoras.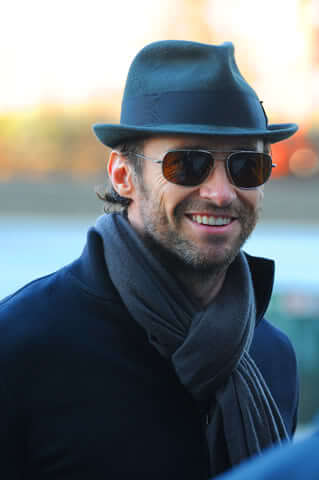 Our first fedora-wearing superstar is none other than Wolverine, also known as Hugh Jackman. If you have seen any of the X-Men movies, then you know that Hugh Jackman is right at home with a more rugged look that is less suited for something as classy as a fedora. But as you can see, Hugh is no stranger to looking dapper as he dons his fedora with a pinched front crown rather than pinched on the sides of the crown.
It's difficult to determine just how dressed up Hugh is in this picture but the scarf and coat clearly contribute to a high sense of fashion. The trappings of a beard-in-progress is also evident but any of Hugh's movies prove that the beard journey is one which he has traveled many times and has managed it quite well.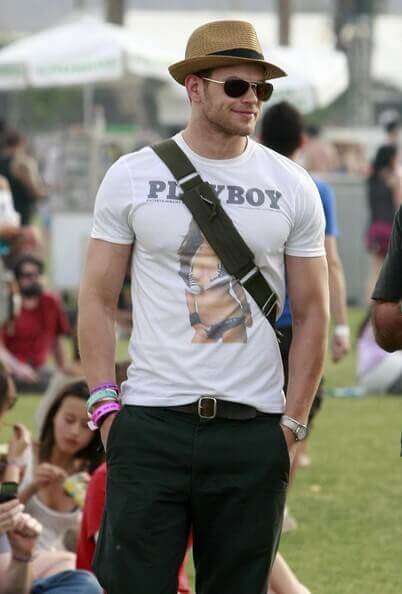 Up next is a less known actor unless you're a big Twilight fan. In this photo, Kellan Lutz has attempted the aforementioned fedora with a t-shirt outfit and as far as we are concerned, he succeeds. Kellan further accessorizes with what appears to be a satchel which makes us think he may have read our satchels reviews and took our advice to heart.
Part of the reason why Kellan's outfit wins is because he dresses up his Playboy t-shirt ever so slightly with a pair of olive green pants. The equally earthy color of his satchel also helps to tie the outfit together which is topped off with what appears to be a straw fedora. Mr. Lutz moonlights as a model when he is not acting so a knack for accessorizing properly or knowing how to bring an outfit together should come somewhat naturally.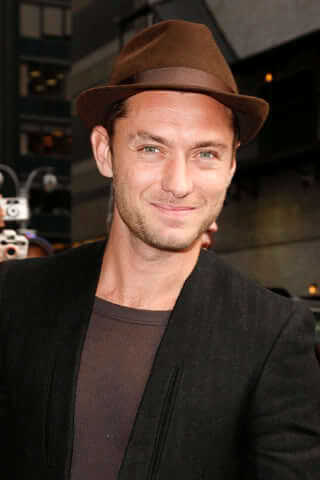 Englishman Jude Law, our third Hollywood mainstay, has his country of birth in common with the man to whom we owe the fedora's popularity. In this photo, Law channels the style of the former monarch with his brown fedora but also dresses it down substantially with a t-shirt underneath his black jacket. Law's well-accomplished style seems to say that he is about to enjoy a glass of Johnnie Walker Blue Label, a brand of Scotch for which he featured in an advertisement known as "The Gentleman's Wager," likely poured from one of the best whiskey decanter sets.
The pairing of the brown fedora and black jacket would not be an obvious style choice for most of us who would likely question the appropriateness of the brown on black. Law however, makes it look like a natural choice and the fact that the jacket is lapelless and collarless further adds to the distinguished yet somehow simple look. Jude Law is a man that has been noted for his style, a quality that seems to run in his family as his son, Rafferty, was named one of the 50 best dressed British men by GQ in 2015.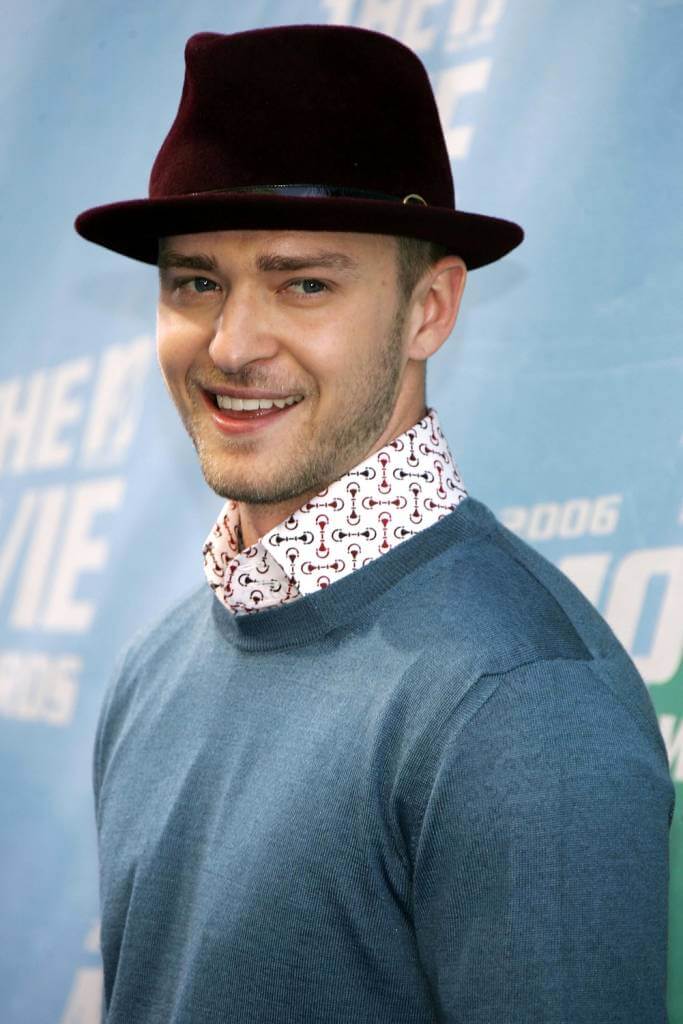 Speaking of boy bands, our last fedora-wearing fellow is Justin Timberlake. With his NSYNC days far behind him, he has seen success in many different areas from acting to business. Because this is true, it is only fair to forgive him for anything he did in the 90s. Certainly his fedora that strategically, yet subtlety matches the print on his long-sleeve shirt worn under a blue pullover sweater warrants an applause.
Justin's fedora, as well as the print on his shirt, is maroon, a fedora color that most would agree is atypical. However, it works quite well and is further complimented by the blue sweater which just happens to be remarkably close to his eye color.  However, we would be mistaken to expect anything less from the owner of the William Rast clothing line and the "Most Stylish Man in America" according to GQ in 2009 and the 3rd sexiest artist in 2013 according to VH1.
The lessons learned from these four gentlemen reflect the varied styles that can benefit from a fedora. The fedora seems to succeed in dressing up any outfit and never really impacts the wearer negatively, even bringing out the best in a Playboy t-shirt, which admittedly, is tough to do. Furthermore, if fashion history has taught us anything, it's that pieces as timeless as the fedora never really fade out of style.